Red Bull against FIA intervention in cost control talks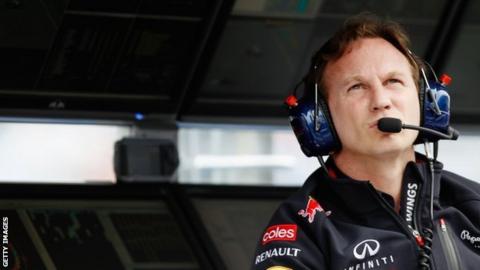 Red Bull are opposing a push by the other Formula 1 teams to involve governing body the FIA in policing the sport's cost-restriction agreement.
Red Bull and Ferrari pulled out of teams body Fota last year because of frustrations with the Resource-Restriction Agreement.
Red Bull team boss Christian Horner says costs should be controlled via the F1 "technical and sporting" rules.
"I don't believe the RRA is the right or effective route," he said.
"[It's also not] one the FIA should really get involved in, because it's fraught with complications."
His remarks follow an agreement between the other teams and the FIA to hold discussions about how to involve the governing body in policing the RRA.
Ferrari quit Fota last year following months of arguments over accusations that Red Bull were breaching the terms of the RRA, which defines staff numbers and how much research and development teams can do.
Red Bull have always denied claims they were breaching the RRA, but pulled out of Fota at the same time because of their own frustrations with the document.
The RRA is a legally binding agreement between the teams and lays out penalties for breaking its stipulations.
But finding ways to ensure teams comply to the satisfaction of their rivals has proved impossible.
The Fota teams and Ferrari - but not Red Bull or sister team Toro Rosso - have all signed a letter asking the FIA to get involved in controlling costs.
Horner said he had not seen the letter or been asked to sign it but added that he believed the RRA had "fundamental flaws within it" - specifically that it is too easy for teams that are subsidiaries of car manufacturers, such as Ferrari, Mercedes and McLaren, to hide work actually being done for F1 within the road-car department.
He told BBC Sport: "Our feeling is the most effective way to control costs is through the technical regulations.
"Controlling tangible things like the amount of people we have at a grand prix, the amount of engines, gearboxes, the amount of testing we can do, are clear and transparent ways to control costs.
"Red Bull aren't in favour of frivolous spending, and we're as keen as anyone to control costs in F1, but to try to do it through equivalence as the RRA is constructed is fraught with problems."
Several of the smaller teams in F1 are known to be struggling to make ends meet, and Horner believes allowing them to buy year-old cars from the leading teams would help them survive.
This has long met resistance from other teams, who believe F1 teams should make their own cars, currently a requirement.
F1 boss Bernie Ecclestone has recently been pushing the idea of allowing so-called 'customer cars'.
Horner said: "[The customer car] eradicates your R&D costs and you effectively would acquire a rolling chassis or the basis of a chassis, which would be an awful lot more competitive than where some of those teams are."
Mercedes team boss Ross Brawn said the letter was an attempt to bring the teams and the FIA together to control costs.
He said the teams wanted to "look at fair ways of introducing regulations or procedures to keep the costs under control and further reduce costs".