Felipe Massa dismisses claims his Ferrari future is in jeopardy

By Andrew Benson
Chief F1 writer
Last updated on .From the section Formula 1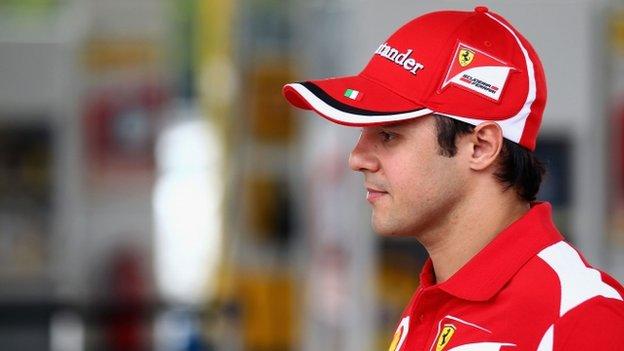 Felipe Massa has shrugged off claims that his future at Ferrari is under threat following a poor performance at the Australian Grand Prix.
Massa said: "I really don't care. I never drove thinking about what others are thinking or saying about me.
"I think about the best I can do, which was not the case in Australia."
Ferrari have publicly offered their support to the Brazilian, and have brought a new chassis to Malaysia "to clear up any doubts about the unusual performance of his car during the weekend at Albert Park".
Massa was a second slower than Alonso in qualifying - and the margin between them was more like 1.5 seconds given that Alonso spun off at the start of his lap on new tyres, which gives an advantage of about 0.5secs over the used tyres he had on his car when he set his best time.
The Spaniard qualified 12th, four places ahead of Massa, but finished the race fifth, while his team-mate retired following a collision.
Massa pointed out that this was not the first time his job had been reported to be under threat - the same thing happened when he failed to finish the first two races of 2008, a season which he ended one point shy of winning the world championship.
Although he has a new car in Malaysia, it is to the same specification as the one with which Ferrari struggled in Melbourne.
"We have had many discussions this week, but discussions about finding out what happened. I'm sure we're going to find it," Massa said.
"We are trying to get the best the car can give, even if everybody knows we are not where we expected to be. I hope the car can work better at this track compared to Australia."
Alonso dismissed the speculation, saying: "In Ferrari everything is exaggerated. There is full trust of Felipe in the team.
"We know each other for many years now, we have been testing in winter with the same car and there was not more than one tenth between us.
"I suspect Australia was a one-off and I think Ferrari and Felipe will be together for a long time and very strong."
Alonso said he expected another tough weekend for Ferrari.
"This race will be tough because the cars are identical to Australia," he said.
"But we need to score points and if we can repeat the performance we saw in Australia we will be happy.
"We are not quick enough, that is very easy to see in qualifying. But in the race with some incidents that happen it helped us get fifth place [in Australia].
"Here, also with the climatic conditions that change every five minutes, maybe we can get some good luck if we are in the right place at the right time."
Ferrari have said they understand the problems with the new F2012, saying it has poor traction and low-speed downforce.
But they are pleased with its performance in high-speed corners, where they say it is one of the quickest cars.
A major upgrade package is due on the car for the fifth race of the season in May, with revised rear aerodynamics and exhaust layout.
However, insiders say they are likely to stick with the layout of their front suspension, which is different from all other teams and which some suspect to be causing the problems the car is having over bumps and with instability on entry to slow corners.