Lewis Hamilton is fastest in both practice sessions at Sepang

By Andrew Benson
Chief F1 writer
Last updated on .From the section Formula 1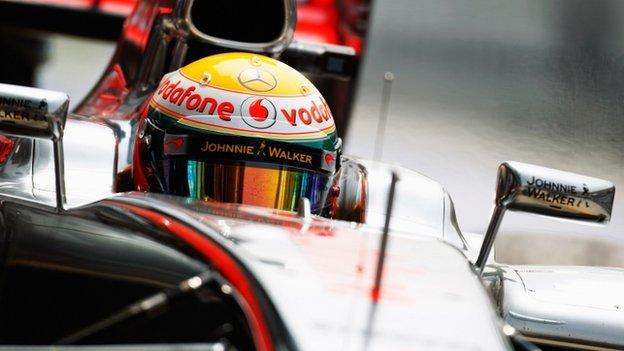 McLaren's Lewis Hamilton was in impressive form in Friday practice at the Malaysian Grand Prix.
The 2008 world champion was fastest in both sessions, heading Sebastian Vettel of Red Bull in the first and Mercedes' Michael Schumacher in the second.
Hamilton's team-mate Jenson Button was third fastest in the second session.
McLaren's performance underlined the form they showed in winning the opening race in Australia last weekend, with Button ahead of Vettel and Hamilton.
Hamilton, who was disappointed in Australia to finish third after starting on pole position, said: "It was a good day for me, I was quite happy with the balance of the car, I've made some changes since the last race but obviously it can always be better.
"Its the set-up and different characteristics. I had a different wing on for the last race which I hadn't used for a year.
"I thought it would be better but in high-speed corners it was too much for the race. In qualifying it was good.
"I made a step backwards this race and [made] a couple of other changes, roll stiffness and ride-height. Hopefully they have helped."
Red Bull appeared to be struggling to keep up, just as they were in Australia.
Vettel complained over the team radio that his car was "undriveable" in the afternoon, when he was 10th fastest and team-mate Mark Webber seventh.
However, Button said that was an illusion.
"I think it's going to be unbelievably competitive," he said.
"The Lotus will be quick and so will the Red Bulls. If you look at their times today they are competitive and they are consistent."
Vettel said: "I'm not entirely happy. I would love to be higher up but all in all we had decent running . There is still a lot to do. It's not as though we expected all our problems to be solved in three hours.
"We are sliding a bit too much and I would love the car to be more predictable and stable in the beginning.
"McLaren looked very strong, no doubt. I think we are closer on long-run pace so we'll see what we can do."
Hamilton's time in the morning session - when he was 0.514secs quicker than second-placed Vettel - was the fastest of the day.
Hamilton was 0.361 seconds ahead of Mercedes driver Michael Schumacher in the second session and 0.514secs ahead of Red Bull's Sebastian Vettel in the first.
The times did not come as easily in the second session as teams began to concentrate on race preparation.
But Hamilton eventually got down to within 0.051secs of his morning time - despite complaining that he had been held up by slower cars on his fastest lap.
Mercedes again looked impressive - Schumacher and Nico Rosberg were third and fourth fastest in the morning session and second and fourth in the afternoon.
The team are a strong tip for a front-row qualifying position on Saturday as a result of their controversial use of the front wing in concert with the rear-wing DRS overtaking aid.
But Schumacher said he did not think he would be able to fight for pole.
"It would be optimistic to say so," he said. "I think we are going to be fighting for fifth position."
Ferrari looked uncompetitive in the morning session, with Felipe Massa and Fernando Alonso 13th and 15th fastest.
But Alonso improved his pace in the second session, when he was running a new front wing design, to take sixth place behind the Toro Rosso of Australian Daniel Ricciardo.
Kimi Raikkonen has been handed a five place grid penalty for Sunday's race after Lotus had to replace his car's gearbox. Formula 1 rules say a driver must use one gearbox for five successive races.