Bernie Ecclestone strikes deal with most teams to race beyond 2012
By Andrew Benson
Chief F1 writer
Last updated on .From the section Formula 1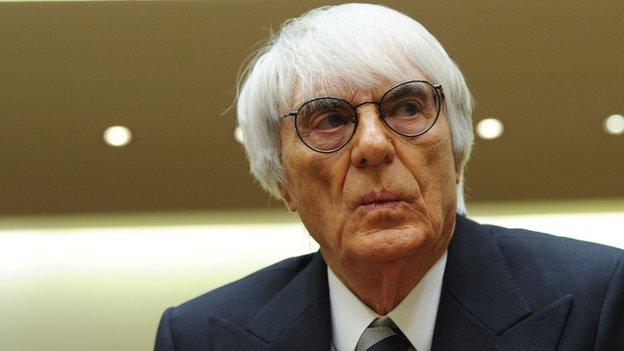 Formula 1 boss Bernie Ecclestone has announced that he has reached agreement with the "majority" of teams to race beyond 2012.
The Concorde Agreement, which binds the teams to F1 and governing body the FIA, runs out at the end of this year.
The announcement stops short of saying there is a new one, but says the relevant teams have reached terms.
Ecclestone said that Ferrari, McLaren and Red Bull were among the teams who had agreed to continue after 2012.
A statement said: "I am very pleased to announce that we have reached commercial agreements with the majority of the current Formula 1 teams, including Ferrari, McLaren and Red Bull Racing, about the terms on which they will continue competing in Formula 1 after the current Concorde Agreement expires at the end of this year."
It is not yet clear which other teams have agreed terms with Ecclestone.
BBC Sport understands that while an agreement has been reached in principle, no contracts have yet been signed.
The German website Auto Motor Und Sport also reports that Mercedes and Williams have yet to agree to the new deal.
Mercedes and Williams have yet to agree to the new Concorde Agreement, the pace between F1 supremo Bernie Ecclestone and the teams, because they would like extra bonuses based on their history in the sport.
Auto Motor Und Sport (in German)
McLaren team principal Martin Whitmarsh told BBC Sport: "There are a lot of discussions - a lot of teams are talking to the commercial rights holder. Hopefully we can sort it out quickly and get on with some racing.
"Bernie's used the word majority. If there are 12 teams, that's seven or more. I don't know any more."
Whitmarsh is also chairman of teams' umbrella group Fota, which represents seven of the 12 teams, but not Ferrari, Red Bull, Toro Rosso, Sauber and HRT.
He added: "We've had two great seasons, there have been some challenging times. We have worked hard to make the sport more sustainable. We have to do more work.
"Up and down the pit lane, four teams look financially stable, the majority are not.
"We have to increase their income and control their costs, we want people to race against and we want 24 cars.
"Everyone needs to be there by the end of the year but the sooner that people have understood what the commercial terms are the sooner we can concentrate on the racing.
"People are interested in the commercial aspects of the sport, but what we have to do is make the sport great.
"It's early days, I hope this is going to be a classic championship, and that's what we should be concentrating on."
There has been speculation that the company that owns the commercial rights to F1 - venture capital group CVC Capital Partners - is planning to float the sport.
And reports have said that as part of a new deal, Ferrari could take a direct shareholding in F1.
Talks over a new Concorde Agreement, which is planned to run until 2020, have been going on for some time.
It was reported that in documents circulated last week to the teams by CVC, it was proposed that Ferrari would be eligible for a share in F1's holding company.