Sauber driver Sergio Perez says error cost him Malaysia win
By Andrew Benson
Chief F1 writer
Last updated on .From the section Formula 1
Sauber's Sergio Perez says he threw away an almost certain victory with an error while chasing Fernando Alonso in Malaysia.
"I was catching Fernando and I knew I had to get him soon because I was losing my front tyres," Perez said.
"I touched the kerb, went on the dirty side of the track and lost the win."
He added: "The win was possible for me today but unfortunately I could not manage it. I couldn't get to him."
The incident came shortly after Perez, whose car uses Ferrari engines, had received a message over the radio saying: "Checo, be careful, we need this position."
Sauber chief executive Monisha Kaltenborn denied that this was a coded message for him to hold station behind Alonso.
"What we meant was get the car home," she said. "It was important to us to get the result - there was nothing else to it. There was no instruction."
Perez's Sauber had been the fastest car on the track as the circuit dried in the closing stages of a thrilling grand prix.
Perez came into the pits to fit full wet tyres at the end of lap two.
The leaders followed him in on laps four and five, but by the time the race was halted on lap six, Perez's early call and extra pace meant he was in third place behind the two McLarens of Lewis Hamilton and Jenson Button.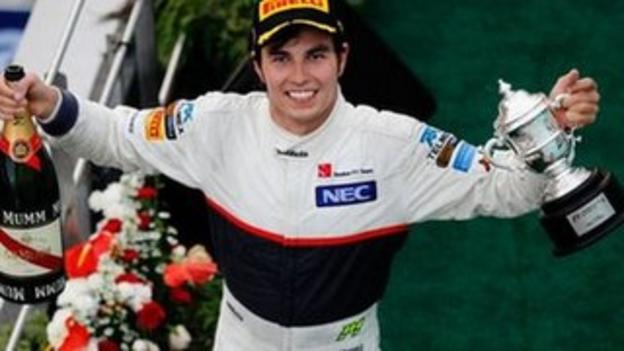 After a 45-minute delay, the race was re-started and the track began to dry. Alonso initially pulled away into an eight-second lead by lap 30 before Perez closed by lap 40.
Ferrari then stopped Alonso to fit slicks a lap earlier than Perez, which built his lead back up to seven seconds, only for Perez to close in again before making his final error on lap 50, with six to go.
Perez paid tribute to Sauber for putting him in a position to challenge for victory.
He said: "The team have done an incredible job. They called me [into the pits] always at the right time.
"Unfortunately Fernando pitted one lap earlier than us towards the end and he opened some gap then. I have to say many thanks to the team.
"I think that they are sleeping in Mexico, so when they wake up they are going to be shocked. I am leaving to go to Mexico now, so I am going to party there."
Kaltenborn added: "[There is] no disappointment at all, we should be very happy and grateful at what we have achieved today."
Peter Sauber, who restored his eponymous team to the grid in 2010 after German car giant BMW withdraw from the sport, said: ""The car and strategy was excellent. The driver was incredible.
"For me it's a miracle he can stay in front of all the big boys; wet and dry everything.
"It's important for him that he can stay with us and he can develop quiet[ly]."
There has been recent speculation that Perez, who also belongs to Ferrari's driver academy, is being lined up to replace under-pressure Ferrari driver Felipe Massa.