Williams announce resignation of chairman Adam Parr
By Andrew Benson
Chief F1 writer
Last updated on .From the section Formula 1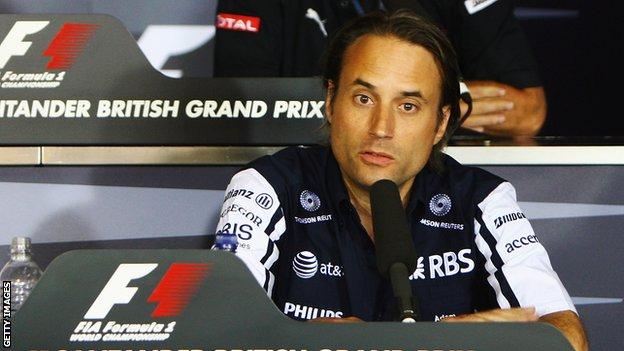 Williams chairman Adam Parr has resigned and will leave the Formula 1 team at the end of the week.
Parr joined the team as chief executive officer in 2006 and was promoted to his current role four years later.
Team principal Sir Frank Williams said Parr, who will leave on Friday, was "seeking a better balance in his life".
The move is a major surprise. Earlier this month, Williams stepped down from the team's board of directors and cited Parr as his most likely successor.
At that point, Williams, who turns 70 this year, said his decision to resign from the board was "the next stage in the gradual but inevitable process of handing over the reins".
It was assumed this would be to Parr, who was something of a protege for Williams.
Parr was a sometimes controversial and unpopular figure within F1. He also had a rocky relationship with the team's co-founder Patrick Head, who retired from F1 at the end of last year.
But Williams was always steadfast in his support of Parr and his belief that he would make an ideal team principal.
His resignation will require a rethink at the team, who have not yet decided whether to replace him with a new chairman.
In the meantime, Williams, who remains the majority and controlling shareholder, will assume a more active role in running the team.
Williams will be assisted by minority shareholder and non-executive director Toto Wolff, an Austrian businessman, and chief executive officer Alex Burns.
Parr's time running Williams saw the team slide inexorably down the grid, culminating in their worst season in the sport in 2011, when they finished above only the three struggling teams who joined F1 in 2010.
However, this season has seen a revival of their fortunes following a major reshuffle of the technical department, which was overseen by Parr.
Bruno Senna, their Brazilian driver, finished sixth in Sunday's rain-affected Malaysian Grand Prix, while his team-mate Pastor Maldonado crashed out of sixth place on the last lap of the season-opener in Australia a week before.
Williams said: "Over five years, Adam's achievements have surpassed my expectations and I must thank him for his service.
"Not least for the decisive role he played in the technical changes made last year which are beginning to show through in the team's improved competitiveness this season, and for leading this company to a successful IPO (launch on the Frankfurt stock market).
"Adam leaves us on good terms to pursue a better balance in his life for which I wish him and his family well.
"He has left us in good shape and I have every confidence that the board and senior management team at Williams will continue to drive the business forward into a promising future."