Formula 1: Sergio Perez dismisses Ferrari rumours
Last updated on .From the section Formula 1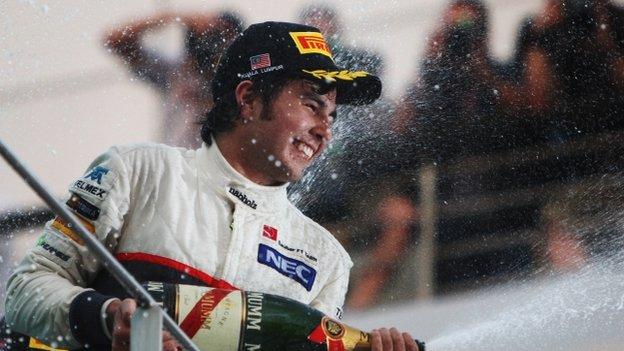 Sergio Perez says he will remain with Sauber this year despite speculation linking him with a move to Ferrari.
The Mexican was impressive in finishing a close second behind Ferrari's Fernando Alonso in Sunday's Malaysian Grand Prix.
In contrast, Ferrari's Felipe Massa has struggled in the opening two races.
Perez, a member of Ferrari's driver academy, said: "Obviously it's only rumours but no, I will stay with Sauber for the whole season."
Brazilian Massa was way off the pace of Alonso in the season-opening race in Australia, and although he was more competitive in qualifying in Malaysia, he again struggled in the race.
Meanwhile, Alonso is leading the championship after adding an unexpected victory at Sepang to his fifth place in Melbourne.
Ferrari team principal Stefano Domenicali said on Sunday after the Malaysian Grand Prix: "We need to stay close to Felipe in this moment. It's a difficult moment and we need to find a way for him to get confident in his car.
"We saw, for example, one step that was in the right direction in qualifying because we saw there was an improvement compared to last weekend.
"Now we need to understand what happened in terms of his race pace and in terms of his performance.
"In my view the problem is that this car is quite difficult, not easy.
"It can be very good and it can also be quite difficult.
"We showed this today that in certain conditions you have to have a certain driving style and you can be very, very good, and in other conditions you can destroy the tyres.
"The priority for me and what I need to make sure is that Felipe has around him the protection of the team that tries to work hard with him."
Massa was also backed by Alonso, who said: "With Felipe we are a very strong team, a very united team and I don't see any possibility of not racing alongside him.
"Felipe had problems in the race in Australia, but in Malaysia, after changing a couple of things in the car, he was competitive.
"In qualifying he was P12, and when the race was red-flagged he was eighth.
"So in a normal race, and hopefully when the car improves, Felipe and I will be on the podium together, which is the goal for the rest of the season."