F1 driver Mark Webber on radio trouble and Tiger Woods

By Mark Webber
Red Bull driver
Last updated on .From the section Formula 1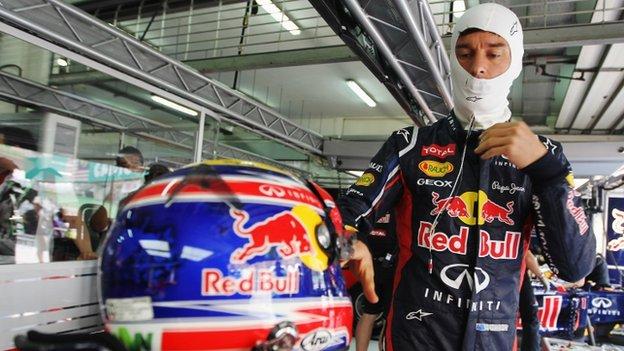 I don't think anyone would have expected Fernando Alonso to win the Malaysian Grand Prix for Ferrari or Sergio Perez to be second in the Sauber.
It was a surprise result but that can often happen when the heavens open like that.
There are so many opportunities to make errors in those conditions, but their teams got their strategy calls and pit stops mostly right - and when Fernando and Perez got out front they weren't hanging around either.
In the first part of the race, before it was stopped because of the heavy rain, Perez gained a lot of time by fitting full wet tyres after only two laps.
The track was heading that way, but the trouble in Malaysia is you just don't know if the rain's suddenly going to stop - and when it does, it's so hot it dries up really quickly.
All the front-runners stopped a couple of laps later, which meant Perez was third when the race was halted.
He backed it up, though. You can't just fluke a strategy call and finish second - it's a long grand prix, the car was well balanced and he got the job done.
As for Fernando, he had a smooth run and he took his opportunities, as he usually does.
Add that to off-days for the likes of McLaren's Jenson Button and my team-mate Sebastian Vettel, and you get a freak result.
OFF THE MARK
I saw there were a few jokes that the canopies the teams erected on the grid in Malaysia after the race was stopped made it look like a village market.
I can see what people mean, but there is a very sensible reason for it.
We learnt a lesson last year in Canada, where we all got drenched, that we were very exposed when it's absolutely chucking it down.
The canopies make it a bit easier for the guys working in the cockpit environment, or with electrical equipment, to escape what is literally like having a shower.
Even so, the radios in both our cars did not work properly for the rest of the race and we had to resort to the old-fashioned means of communication with pit-boards.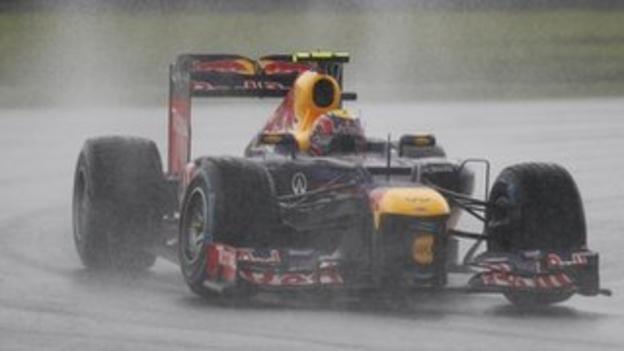 The guys had to dress up the boards not only with general race information, like what lap we're on and the gaps to the cars in front and behind, but also with other info about the car's performance.
That makes it more difficult to manage the race in circumstances that are already very challenging.
The problem became apparent as soon as we re-started the race.
Eventually, I ended up ripping my radio connection out of my helmet because it was just getting too distracting.
That's quite a big call, because you know once you've done that you're never going to get it back again.
I had to do it, though. I was getting squawking and static in my ears, which changed depending on which corner I was in. It was really loud, too.
It is not what you need when you're going through the sort of demanding corners you have in Malaysia on a wet track.
ON THE MARK
I'm reasonably satisfied with the way I've started the season, even though my Red Bull Racing team have not been as strong as in the last two years.
The two races so far have not really given us a full form guide.
Mercedes have come away empty-handed, despite showing some strong pace, and Lotus have also got some speed in their car but not quite delivered the results they're capable of.
That can happen when everyone's a bit raw in the early races of the season.
I'm fourth in the championship, behind Fernando, Lewis Hamilton and Jenson, so it's been a solid start.
The team have been brilliant all winter in helping me prepare, from the engineering side, through team principal Christian Horner and chief technical officer Adrian Newey - and it has been great to start the season in a positive way.
I've got a pretty good feeling in the car and we made a definite step forward in performance in Malaysia.
That's good but you're never satisfied until you're at the front, and we've got two weeks to try to ensure that's where we are for the next two races in China and Bahrain.
WEBBER UNSPUN
I'm spending my last few days down under this week before heading back to Europe at the weekend, making the most of a chance to relax when I can because the back end of the championship gets pretty intense.
I noticed when I arrived back in Australia on Monday that Tiger Woods won his first PGA Tour title since September 2009.
He's had problems away from the sporting field in the last few years, but that desire, focus and hunger takes a long time to go away.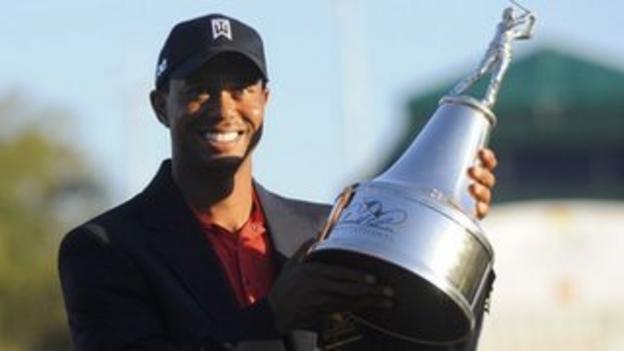 We know he's a quality act when his head is on the case.
Golf is an incredible sport in terms of how the mind has such a powerful effect on a player's form. That is often under-estimated in a lot of sports, including F1.
You need to keep the distractions down so your mind is clear.
In any top-line sport it's so important to have the balance right between on and off-field stuff, and get the right people around you.
Woods was on a rocket ship early in his career, but losing his father in 2006 was clearly a big moment in his personal life and he's now coming through some choppy waters.
He could be getting back to a place now where he can focus on the simple stuff - which is hitting the golf ball.
Who knows what the next 10 years hold? You'd never put it past him now to go on to even greater success.
Mark Webber was talking to BBC Sport's Andrew Benson. Read his exclusive column every Wednesday.