Formula 1 analyst Eddie Jordan made honorary OBE by Queen
By Jonathan Jurejko
BBC Sport
Last updated on .From the section Formula 1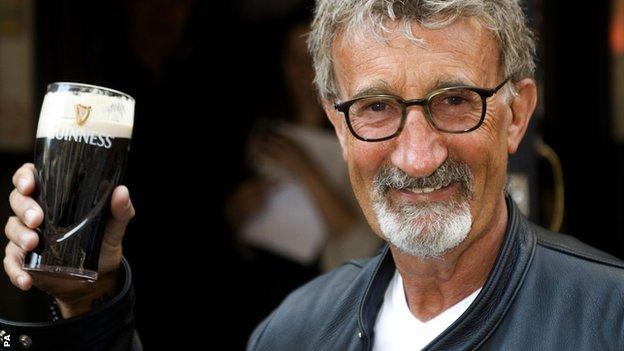 Eddie Jordan has been made an honorary OBE by the Queen for his services to charity and motor racing.
The Irishman, one of F1's most famous faces and current BBC Sport analyst, said he was "surprised and overjoyed" by the recognition.
But the 63-year-old told BBC Sport he initially thought the "magnificent" honour was a friend "having a laugh".
"When it's not something you're expecting you dismiss it. It came as a big shock, but I'm thrilled," he said.
The Queen makes honorary awards to non-British citizens on the advice of the UK Foreign Office.
But Jordan admits he did not even realise he was eligible to receive the Royal honour.
"I got a brown envelope and I thought it was another tax enquiry looking for more money," he laughed.
"So I put it to one side and when I had another look I saw it had the Foreign and Commonwealth department stamped on it.
"I thought 'I don't have much contact with that department' so I had another look. And there it was."
The Dubliner said he would be celebrating the OBE, and his forthcoming 64th birthday, in London after flying into the English capital from Lisbon, where he watched his beloved Chelsea beat Champions League opponents Benfica.
Jordan, one of F1's most charismatic personalities, paid tribute to the support of his family and his former Jordan Grand Prix team.
He also said the honour would not have been possible without the help of charity CLIC Sargent and "in more recent times the BBC F1 team".
Jordan has enjoyed a distinguished motorsport career as a driver, team owner, analyst and entrepreneur.
He started behind the wheel but became well-known as the owner of Eddie Jordan Racing and later Jordan Grand Prix.
He gave future world champion Michael Schumacher his Formula One debut, while legendary drivers Ayrton Senna and Damon Hill made their first F3 drives under Jordan.
After selling the team in 2005, he joined the BBC as a pundit in 2009 and took on a new role as chief analyst in 2011.
The father-of-four, who has been married to former Irish international basketball player Marie for 33 years, also has a number of philanthropic interests.
Most notably, he is patron of child cancer charity CLIC Sargent and The Amber Foundation for the young homeless.