Gary Anderson's review of the F1 teams after two races
Last updated on .From the section Formula 1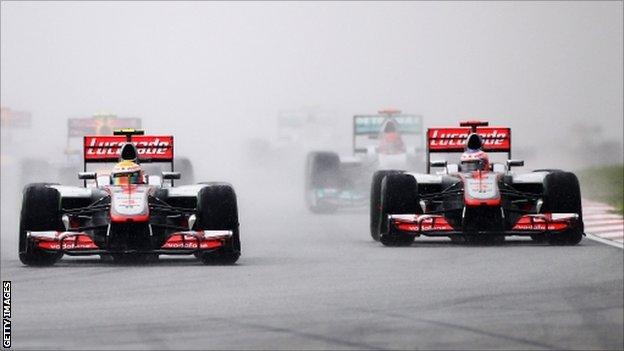 It has been a great start to the new season.
Two races in, and Formula 1 2012 is already proving even better and more unpredictable than expected.
In many ways, the Australian and Malaysian Grands Prix have posed as many questions as they have answered, but what exactly has been learned so far?
LOOKING GOOD FOR McLAREN
McLaren have been the most consistently fast team. The fact they have locked out the front row of the grid in both races shows the car has raw performance.
They are leading the constructors' championship thanks to Jenson Button's victory in Australia and two third places for Lewis Hamilton.
McLaren will have come home pretty happy, even if they have not got as many points as they will feel they might have.
MIRACLE START FOR FERRARI
Ferrari are leading the championship, which nobody expected.
It shows that if you give Fernando Alonso that little bit of a challenge he never lies down. He is just waiting for an opportunity to drag something out of the car.
Nevertheless, Ferrari have pulled a rabbit out of the hat because there is something dramatically missing in the performance of the car.
That win in the conditions in Malaysia will have created more questions than answers.
The main one will be over the torsional stiffness of the car, because in the wet a more flexible structure is a more compliant car, which can be a benefit.
At the other extreme, McLaren always run the car very stiff to control the aerodynamics.
It's quite likely that this is the reason the Ferrari went very well in the wet conditions and McLaren dropped off.
The question those at Ferrari will be asking is why the car doesn't go well in the dry, when the grip levels are high.
UNFAMILIARITY BREEDS CONTEMPT
Red Bull are definitely not a happy camp - that's clear from speaking to management at the team, and seeing Sebastian Vettel's display of emotion after the race in Malaysia.
It is not the first time Vettel has betrayed that emotional side to his character when things have not been going his way.
You could even see that frustration in him in Abu Dhabi last year when he got his puncture at the start - and that was one race out of a season he had dominated.
So if he's going to react like that then, will he spit his dummy out when two or three races go wrong?
All the way through the team, they are clearly not coping well with no longer being at the front.
It may well be to do with the fact that two significant rule changes over the winter focused on areas that Red Bull had pioneered and were exploiting better than other teams.
Exhaust-blown diffusers were banned, and load tests on front wings were stiffened up, preventing the edges of the wing dipping towards the track to improve downforce.
In the last two years, Red Bull's big benefit was in having a car on which they did not have to do much work at a race meeting. But in Malaysia, for the first time ever, I saw them changing torsion bars, roll-bars, ride heights and so on.
They are obviously still trying to find their feet with their new car - there were not many times during the race weekend in Malaysia when they looked like the real opposition. They clearly have a lot of work to do.
NOT DELIVERING THEIR POTENTIAL
Mercedes will be the team coming home with their tails between their legs.
They have a fairly quick car in qualifying but have not shown anything like that potential carrying through into the race.
To come home from the first two races with just one point is about as badly as they could have done.
In Malaysia, Michael Schumacher got taken out on the first lap, but Nico Rosberg was going backwards.
I was in the garage when he came in to change his tyres. There was nothing wrong with them - but he obviously had no grip.
In Australia both cars had high tyre wear, and although the team said they were confident it would not be the same in Malaysia, it looked from their running in practice as if it was still an issue.
MIDFIELD SHAKE-UP
While Lotus have moved out of the midfield to join the battle at the front thanks to Kimi Raikkonen and Romain Grosjean, Williams and Sauber have also made big steps forward.
Lotus will feel they have yet to get the points they maybe should have done, but Sergio Perez's second place in Malaysia was partly down to a set of circumstances falling into place. Yet his Sauber team have still clearly moved to the front of the midfield pack - as have Williams.
Both of those teams have the potential to look forwards rather than watch over their shoulders.
Force India are probably the most disappointing of the midfield group - they are the ones who have improved least.
BACK OF THE GRID
Caterham are probably also a little disappointed. They have achieved their aim of moving forward towards the midfield pack, but not as much as they thought they had.
Marussia will be pleased to be ahead of Caterham in the championship after the first two races, but they should really be doing better than they are considering the structure and personnel they have.
But they are still suffering from failing to make the final pre-season test with their new car.
Finally, HRT are still struggling, but have definitely made progress.
Pedro de la Rosa was not only within the mark needed to qualify in Malaysia - which is to be within 107% of the fastest time in the first part of qualifying - but he was also within 107% of the actual pole time. Which has never happened before.
Gary Anderson was talking to BBC Sport's chief F1 writer Andrew Benson.