Sebastian Vettel has no regrets over Narain Karthikeyan comments
Last updated on .From the section Formula 1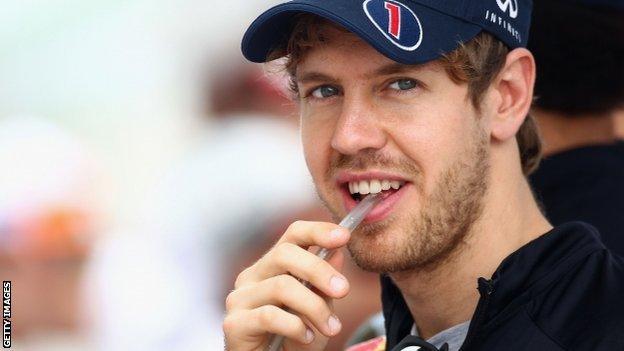 Sebastian Vettel says he has no regrets about criticising HRT driver Narain Karthikeyan following their collision in the Malaysian Grand Prix.
Vettel says his reaction was "part of the sport", adding: "I lost a solid fourth place, so that's disappointing.
"Sometimes you let the emotion show and I don't think someone should be ashamed about that," he told Sport Bild.
Karthikeyan was initially angered by Vettel's response, calling him a "cry baby" and "unprofessional", but has since said it was time for the two to put the incident behind them.
The incident gave Vettel a puncture which damaged his car and he ended up finishing 11th - the first time in 27 races he has finished a grand prix but not scored points.
Vettel added in a separate interview: "It is true that I was disappointed. But just shortly after the race I behaved like I felt. I think this is more honest than to be smiling, when you don't feel like smiling.
"Sometimes 10 minutes after the race is enough to wind down, sometimes not. On Monday (after Malaysia) my mood was back to normal. I was able to tick it off and look ahead when I had slept over it."
Red Bull have dominated the last two seasons, but have started this year comparatively slowly.
After two of the scheduled 20 races this year, Vettel lies sixth in the championship, 17 points behind the surprise leader, Ferrari's Fernando Alonso.
The German has also been out-qualified by his Red Bull team-mate Mark Webber at both events.
Their highest qualifying position is fourth and from four starts they have only one podium finish - Vettel's second place in the season-opening race in Australia.
"Of course I would like to have had a better start," Vettel said. "But the most important thing is we understand and learn from where we are now and we try to improve the situation in the next races."
Vettel's non-finish in Malaysia means it is now four grands prix since he has won, his longest drought since the summer of 2010.
But the 24-year-old said he was confident he would be able to fight for the title and was optimistic about his chances in the next race, in China on 15 April.
"It is still a long season," Vettel said. "We have a very good car, and I have a good chance of a big year.
"We should hopefully have some good improvements, but we have to prove it on the track.
"If you look at the sporting side, after two races I have more points than I had in my world championship season 2010.
"I only look ahead now. I have been in the simulator twice and go to China positively."