F1 driver Mark Webber on speedway, kayaking and triathlons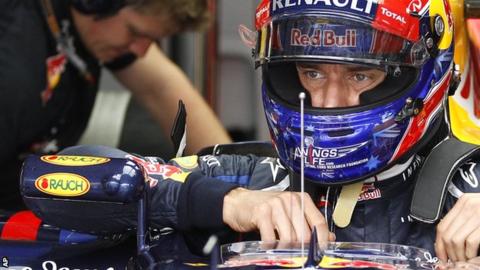 I'm back in England this week after spending a few days in Australia and New Zealand following the Malaysian Grand Prix.
Some of you might wonder why I didn't stay out there for a bit longer - after all, it's less than a week now until I'll be heading off to Shanghai for the next race.
As a Formula 1 driver, you do have to look at the template for the year and work out what is the best way to deal with all the travelling and any commitments you have between the races, which don't always go that well together.
But I had always planned to come back even if it was only for a week or so because I've got a lot of work to do with my Red Bull Racing team at the factory.
Most of the European-based drivers come home whenever they get chance.
There are one or two guys on the grid who are slightly freer spirits, though - Jenson Button, for example, likes being in Japan and Hawaii so he uses the opportunity of the long-haul races to go out there when he can.
I'll be able to do a bit more of that later in the year when Australia becomes a great base for the Asian-based races.
You might have seen that JB competed at the weekend in an Olympic-distance triathlon in Hawaii called the Lavaman.
It's a real credit to him pitching himself against quality athletes away from his own profession, which he's now been doing for several years. No massive ego, he's just out there enjoying healthy competition.
That's why I enjoy doing my Tasmania Challenge each year as it takes me out of the F1 bubble and I discover new limits in a different environment with different people.
Who knows, JB and I might hook up to do something together in the future.
ON THE MARK
While in Australia, I caught up with friends and did a bit of training and surfing before heading to New Zealand last weekend to watch the first round of the Speedway Grand Prix series.
It's the first time they've had a round out there and they held it on a track that's been there for 80-odd years and is steeped in midget car racing history. It's a cute little amphitheatre in a residential area of Auckland.
My partner Ann is a big speedway fan, too, and when it came on the calendar she said it would be too big an opportunity to miss.
We killed a few other birds with one stone, too.
We caught up with Mitch Evans, a young Kiwi racing driver I'm helping, and some of his supporters and partners, as well as a really good mate of mine, Richard Ussher, who is a world-class adventure racer and probably the best all-round athlete I've ever met.
Richard was taking part in a kayak race, which he tried to persuade me to do. But I was sensible for once and didn't do it - it was a 30km ocean paddle off Auckland, and I would have been a bit under-cooked for that.
It was pretty serious stuff. Coming back into Auckland they had to go around a cargo ship that was heading towards the front of the field. That livened things up a bit!
Believe it or not, it was the first time I'd ever been to New Zealand.
The North Island looked stunning enough but everyone says just wait until you see the South Island. It sounds exactly like my kind of place so I'm looking forward to getting down there and checking it out next time.
OFF THE MARK
At the speedway, we caught up with another buddy of mine, Jason Crump, one of the leading riders, and it was a nice change for me to be the relaxed one for once.
Funnily enough, I also bumped into an old Australian touring car legend called Norm Beechy - who was a hero of my dad's back in the day.
He just happened to be there - Norm's a speedway 'tragic', so he'd popped over to see the racing just like I had.
I've met him once or twice before, but it was great to spend a bit more time with him.
It's fascinating talking to him about what I do - the cars, the aerodynamics, the level of grip we have and so on - because it's so different from when he was racing.
Racing has changed so much - he raced at the weekends, but he made his money during the week.
He said: "I never made so much money as when I stopped racing. I put a lot of weight on - and it was all in my left pocket where I keep my wallet."
WEBBER UNSPUN
I'm really enjoying doing these columns, and trying to put together a bit of information for people, whether it's hardcore motorsport enthusiasts or more general sports fans.
But I have to be honest - we have struggled a little bit this year to satisfy ourselves that there was enough to say on a weekly basis.
One of the problems is that sometimes I feel I'm not very topical - whether it's because I'm away on the other side of the world for several weeks at a time, or just focusing hard on F1, as you have to if you want to be successful. Or a bit of both.
I feel it's going to be a bit easier to ensure the quality remains high if we do the column monthly rather than weekly. So from now on that's what we'll do.
I'll be back in early May. In the meantime, if you want to keep up with what I'm up to, you can follow me
Mark Webber was talking to BBC Sport's Andrew Benson.