Jack Brabham: Formula 1's greatest drivers - number 18
By Andrew Benson
Chief F1 writer
Last updated on .From the section Formula 1
BBC Sport is profiling 20 of the greatest Formula 1 drivers of all time. The BBC F1 team were asked to provide their own personal top 20s, which were combined to produce a BBC list.
Chief F1 writer Andrew Benson profiles number 18, Aussie great Jack Brabham - while Murray Walker gives his own recollections in the video above.
Sir Jack Brabham is one of a select band of just eight drivers who have won the world title three times or more, but his achievements go far beyond that. He is also the only man to have won a title in a car bearing his own name.
The gritty Australian had a 15-year career that spanned two golden ages of F1. His rivals in that time included legendary names such as Stirling Moss, Jim Clark, Jackie Stewart and Jochen Rindt - all of whom have places on this BBC F1 list of the 20 greatest drivers of all time.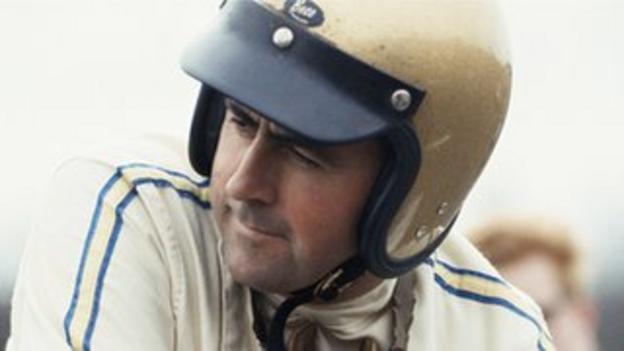 In some ways, Brabham has come to be remembered more for setting up the team that bore his name - and which went on to be taken over by current F1 boss Bernie Ecclestone and win two world championships with Nelson Piquet, including the first with a turbo-charged car in 1983.
Brabham the driver has in some ways been relegated to a more diminished role in his history. Yet in many ways he was under-rated.
To win his first world title, in 1959, he had to beat the great Moss, driving a Lotus, and the Ferrari of Tony Brooks, a man who Moss rated extremely highly.
OK, it was a title won by stealth as much as outright pace, with Brabham driving only as fast as he needed to and often waiting for Moss's car to break, but he was always there or thereabouts.
In 1960, his second championship year, he dominated, taking five straight wins as his Cooper team again benefited from the fragility of Moss's Lotus.
Following a year of domination by the 'shark-nose' Ferrari 156, Brabham set up his own team in 1962, and the next few years were about building it into a consistently competitive force.
The team's first win, at the 1964 French Grand Prix at Rouen, was actually taken by Brabham's team-mate, the American Dan Gurney - a great driver in his own right. Brabham himself had to wait until 1966 - again in France, this time at Reims - to become the first man in history to win a grand prix in a car of his own manufacture.
That victory, when it came, opened the floodgates. Brabham went on to win in Britain, Germany and Holland to add the world championship as well.
It is a record that is likely to stand forever, and Brabham worked hard for it. Although the cars were designed by his partner Ron Tauraunac, Brabham himself was heavily involved in their engineering.
For 1966, he persuaded the Australian company Repco to design a new eight-cylinder engine for the new three-litre formula that was introduced that year - against the trend for engines of higher numbers of cylinders, but along the lines on which Cosworth were working for what was to become the defining DFV, introduced the following year.
The Repco was not the most powerful engine, but it helped give a good power-to-weight ratio in a car that had good handling and good tyres. Meanwhile, Brabham's chief rivals were all hamstrung in various ways - Ferrari parted company with their number one driver, John Surtees, part way through the season and Clark was hamstrung by the engines in his Lotus.
Brabham was 40 when he won his final title that year, but he remained a force right up until his retirement at the end of 1970.
His final season is chiefly remembered for his involvement in the race that set Jochen Rindt on the path to the world championship - Brabham buckled under the pressure of a quite remarkable drive by the Austrian and crashed at the final corner of the race, gifting Rindt victory.
In fact, though, Brabham had a strong season and, but for some unlucky breaks that robbed him of potential wins in Britain and Germany, he might conceivably have ended his final season as champion.
Brabham had a reputation as a tough, uncompromising competitor who his rivals felt pulled every trick in the book to keep them behind.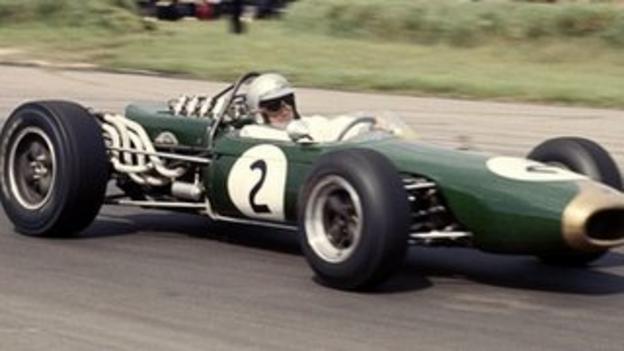 After a race-long battle for fourth place with Chris Amon's Ferrari at Silverstone in 1967, Amon remembered: "Jack was throwing everything in the book at me - stones, grass, dirt, everything. I remember he was adjusting his wing mirrors early in the race - and one of them flew off and whistled past my head! Then he seemed to be adjusting the other one - I've never been quite sure whether he was adjusting them or trying to tear them off.
"After about 30 laps, he'd lost both mirrors and then we had a real tussle. That was a very wide car indeed, but of course afterwards he tells me he's very sorry for chopping me all over the place but his mirrors were gone and he didn't know I was there!"
Jack Brabham was a man of few words, who perhaps lacked the charisma of some of the other drivers on this list. But his achievements mark him out as undoubtedly one of the greatest figures in the history of F1.