Bernie Ecclestone says F1 teams not worried about Bahrain GP
Last updated on .From the section Formula 1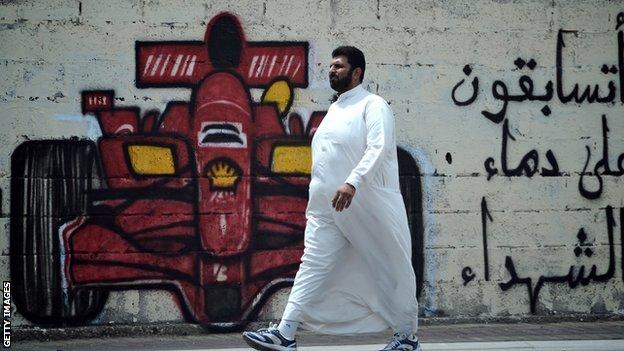 Bernie Ecclestone says Formula 1 teams have not expressed security concerns to him about the Bahrain GP, but suggested the race's contract may not be renewed.
Ecclestone told BBC Sport's Dan Roan: "None of the teams have expressed any concern to me - quite the opposite."
On renegotiating the race's contract, F1's boss said: "Maybe we wouldn't renew it. We'll have to look and see."
Last year's grand prix was cancelled following civil unrest and human rights activists have called on the F1 bosses to think carefully about whether this year's race should be held.
Ecclestone continued: "At this time, there are no indications it won't go ahead.
"It's really not up to me to decide whether it should go ahead or not. It's up to the people in Bahrain to decide. At this time, they are not cancelling the event, so presumably they are happy."
The Bahrain International Circuit (BIC) says two representatives of the Lotus team have visited the country and have told all F1 team principals they are "confident that everything is in hand" regarding safety measures for the 22 April race.
Lotus have since responded, saying the report had been confidential.
A team statement said: "Earlier [on Tuesday], the Bahrain International Circuit (BIC) issued a press release attributing quotes to our team showing support for the Bahrain GP.
"These quotes were part of a full internal and confidential working document, that was also sent on a confidential basis to all F1 team managers last week.
"Lotus F1 Team is one of 12 contestants of the Formula 1 World Championship and we would never try to substitute ourselves for the [sport's governing body] Fédération Internationale de l'Automobile (FIA), which is the only party entitled to determine if a grand prix should go ahead or not."
The team said it endorsed a statement released earlier from the Formula One Teams Association (Fota), which represents Lotus as well as Caterham, Force India, Marussia, McLaren, Mercedes and Williams.
The Fota statement said: "There's been some media speculation recently to the effect that the teams may seek to cancel this year's Bahrain Grand Prix.
"That wouldn't be possible. Teams are unable to cancel grands prix. We race in an international series called the FIA Formula 1 World Championship, and it is therefore for the FIA to offer the teams guidance on these issues."
Fota does not represent Ferrari, HRT, Red Bull, Sauber or Toro Rosso.
Ecclestone added he had also been reassured about safety by Bahrain sporting chiefs and an F1 team, which he did not want to name, which he said had been out to the Middle East to assess security.
"One of the teams sent a person over there recently - and I've spoken to them today actually - and they said everything's perfect, there's no problem.
"They've been to the circuit, they've been everywhere in Bahrain and they are very happy.
"We can't force teams to take part. They would be in breach of contracts with [F1] if they didn't, but we would deal with that matter as a separate issue."
Ecclestone added he was "not in a position" to consider whether Bahrain should be axed from the F1 calendar at the moment, despite saying the race's contract may not be renewed when it runs out.
BIC chairman, Zayed Al Zayani, added that "scaremongering tactics" had helped create misconceptions about the current situation and insisted Bahrain was ready to host the race.
"What has been happening is that armchair observers - who have not been sufficiently interested or committed to investigate the situation for themselves - have been driving this debate, at the expense of those neutral parties who have taken the trouble to investigate the situation at first hand," he said.
Questions have been raised about the fourth race of the new season as violence between protesters and security forces erupted again on Bahrain's streets earlier this year.
Former world champion Damon Hill is among those who believe the plans should be reconsidered.
Demonstrations and civil unrest during the 2011 Arab Spring led to the cancellation of last year's Bahrain Grand Prix.
Bahrain's majority Shia population have been demanding democratic reforms from the country's Sunni rulers and the government tried to quell their protests.
Dozens of protesters have since been killed and injured. King Hamad commissioned an independent inquiry into events and promised to implement sweeping reforms.
But human rights activists say the inquiry was not independent and the reforms have not taken place.