Mercedes DRS wing outside the intention of the rules - McLaren
Last updated on .From the section Formula 1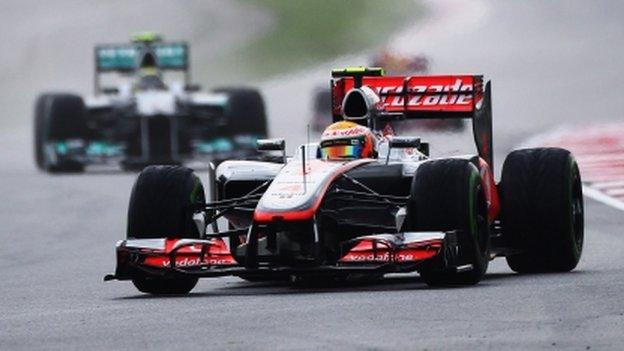 McLaren say Mercedes' controversial aerodynamic package is outside the intention of the rules.
Technical director Paddy Lowe said that he thought Mercedes' drag-reduction system (DRS) was not what the regulations intended.
"If you look at the system on the Mercedes, there is an argument: is that what was intended with DRS?" he said.
"Well, it definitely wasn't. DRS was a set of rules created to move the rear wing flap and not to do anything else."
Rivals have questioned the legality of a system that links the DRS rear wing overtaking aid with the front wing, boosting straight-line speed.
Lotus and world champions Red Bull have been most vocal in opposing the system.
McLaren team boss Martin Whitmarsh said during the Australian Grand Prix that he thought the system was legal, but Lowe says he believes it is all about how the rules are interpreted.
"There's no such thing as 'spirit of the rules'. It's a term often used," he added whilst discussing whether teams' ongoing attempts to use exhaust gases to aid downforce was within the spirit of the rules, despite new regulations aimed at preventing it.
"The rulebook is a set of text that has a meaning, and you decide what that meaning is - and you work to them."
Mercedes have cut holes onto the inside of the vertical endplates of the rear wing which are revealed when the driver pushes a button to operate the DRS, which lifts the flap on the rear wing.
The holes connect up through channels inside the car to slot-gaps on the underside of the front wing, which sucks air from the rear wing, reducing the front wing's effectiveness.
The system has a number of benefits, including increased straight-line speed and better stability through certain fast corners. Some rivals estimate the system could be worth as much as 0.5 seconds a lap.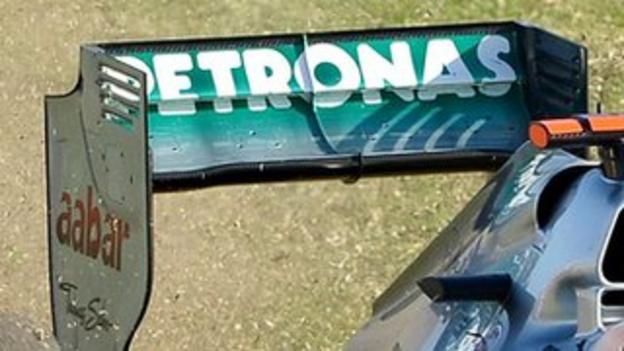 Formula 1's governing body the FIA is currently reassessing its position on the legality of the controversial design feature on the Mercedes.
Lowe, whose McLaren MP4-27 car has qualified with two front-row lock-outs in the first two races of this season, said ultimately the FIA's decision will be based around what the rules state, rather than a team's interpretations.
"There's no headline regulation that says: 'And above all else you've got to remain within the spirit of what was intended.'
"The debate around, can they keep the system on the car is not whether is was within the spirit or not, it's whether the regulations permit it or not."