F1 teams expect Bahrain Grand Prix to be called off
Last updated on .From the section Formula 1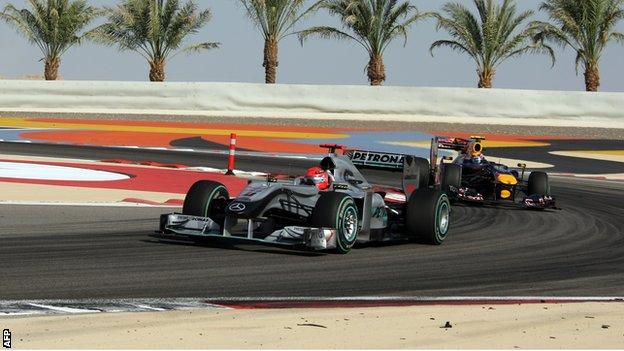 A number of Formula 1 teams expect the Bahrain Grand Prix to be called off amid security concerns caused by civil unrest, BBC Sport has learned.
A statement from the Formula One Teams' Association on Tuesday said it was down to the FIA to cancel the race.
Teams will meet Ecclestone at the weekend when a decision is expected. However authorities remain confident the race will go ahead.
Violence between protesters and security forces erupted again on Bahrain's streets earlier this year after unrest during the 2011 Arab Spring led to last year's Bahrain GP being cancelled.
Unlike last year, the Bahrain authorities are in no mood to cancel the race themselves, so the decision rests with the FIA this time.
Bahrain's majority Shia population have been demanding democratic reforms from the country's Sunni rulers, and the government has tried to quell their protests.
The Bahrain race organisers argued last week that holding the GP would have an important unifying role in the country and Ecclestone has said he has no doubts about staging the race, scheduled for 22 April.
Former world champion Damon Hill said this week that Formula 1 should re-think plans to hold the event.
Hill had originally backed the race after visiting the country on a fact-finding mission with motorsport boss Jean Todt in December.
But another British former world champion, Sir Jackie Stewart, believes the race should go ahead. He told BBC Sport: "It is a dangerous precedent to set [if] we don't go to Bahrain.
"Democracy doesn't happen in three months, 12 months or 36 months. It takes a generation sometimes.
"In reality, a specialist of the Middle East would say Bahrain is more developed than any other Middle East state. However, they have a problem."