Bernie Ecclestone will meet F1 teams to discuss Bahrain GP

By Dan Roan
BBC sports news correspondent
Last updated on .From the section Formula 1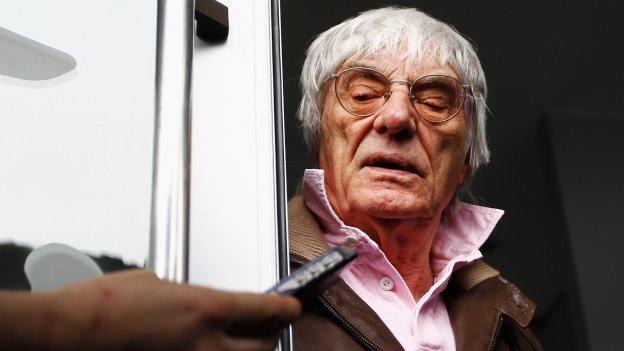 F1 boss Bernie Ecclestone will meet the sport's 12 teams in Shanghai on Friday to discuss whether the controversial Bahrain Grand Prix should go ahead, the BBC has learned.
However a senior FIA official told the BBC "The race is still on. The situation is not like last year."
2011's race was called off following pro-democracy protests in the country.
But now a number of them expect the race to be called off amid security concerns caused by civil unrest.
and a summit has been called ahead of this weekend's Chinese Grand Prix.
Despite holding the meeting, Ecclestone said on Thursday only the Bahrain sporting authorities could cancel the race. "The race is on the calendar," he said. "It's scheduled."
The Formula One Teams' Association (Fota), meanwhile, insists it is down to the sport's governing body, the FIA, to cancel the race. But the BBC can reveal Friday's crisis meeting will not include FIA chief Jean Todt who does not arrive in Shanghai until Saturday.
That may mean any decision is delayed until the weekend, with cars scheduled to be air-freighted to Bahrain on Sunday night.
Bahrain authorities remain confident the race will go ahead.
Unlike last year, the Bahrain authorities are in no mood to cancel the race themselves, so the decision rests with the FIA this time.
But, speaking on condition of anonymity from Shanghai where the third stage of the F1 takes place on Sunday, the senior FIA official told the BBC's Bill Law that John Yates - Scotland yard's assistant commissioner until he resigned last year but now serving as a special advisor to Bahrain's Minister of Interior - has been reassuring.
"Yates is saying to us continuously [it is OK]."
The official said that Mr Yates, who had been in charge of security for the London Olympics, would not be making those assurances unless it was safe for the race to go ahead.
"I don't think he wants to sour his reputation," he added.
Responding to reports that several teams were expressing doubts about going to Bahrain, the official said that if teams did not come "there will be consequences".
Violence between protesters and security forces erupted again on Bahrain's streets earlier this year after unrest during the 2011 Arab Spring led to last year's Bahrain GP being cancelled.
Bahrain's majority Shia population have been demanding democratic reforms from the country's Sunni rulers, and the government has tried to quell their protests.
The Bahrain race organisers argued last week that holding the GP would have an important unifying role in the country and Ecclestone has said he has no doubts about staging the race, scheduled for 22 April.