Mark Webber expresses Bahrain Grand Prix concerns

By Andrew Benson
Chief F1 writer in Shanghai
Last updated on .From the section Formula 1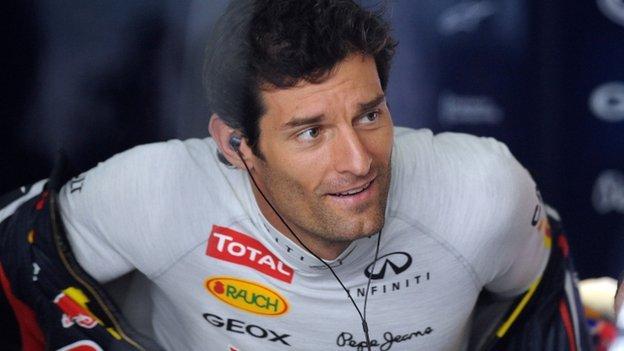 Red Bull's Mark Webber has expressed some misgivings about the prospect of racing in Bahrain.
Webber echoed most leading figures in saying it was for governing body, the FIA, to decide if the race should go ahead - but admitted he had concerns.
"Clearly there are some massive decisions to be made," the Australian said. "Let's hope it goes well."
He added: "If we have a choice…I want to race, and I would like to go there and do that. But you cannot ignore the fact there are a lot of good people in our sport and all of them have in the back of their minds that we want it to go down smoothly and we don't want to be involved with the situation that's out there."
The teams are to have a meeting with F1 boss Bernie Ecclestone on Friday at the Chinese Grand Prix, where Bahrain is expected to be discussed.
Webber said: "There is no beating about the bush, it is sensitive out there, we get lots of view points from there, both sides. I get constantly reminded on Twitter.
"If there was no social networking, it would be interesting to see what the situation would be. But we can only go on what the FIA are reading into the situation.
"Obviously we are putting an immense amount of trust into the FIA - I'm not talking about the drivers, I'm talking about you guys (the media), photographers, catering everybody going to and from that track each day. Competing at that track and having a normal grand prix weekend is what we would all love to see. "
The Australian, 35, said that Red Bull had planned extra security for the Bahrain weekend, but said: "I accept not everyone can have that and that doesn't make me feel comfortable."
Bahrain pays one of the largest fees for its race, is influential within the FIA and is a 50% shareholder of McLaren.
Asked whether he was confident the right decision would be made for the right reasons, Webber said: "A sensational question.
"We all know why it might have dragged a bit. It's like that. There's a lot of funding and finances that have come from Abu Dhabi and Bahrain and the Middle East.
"They're very excited about F1 and they clearly want to give it another go. Let's see if it works."
McLaren's Lewis Hamilton was one of several leading figures who said he would leave it up to the FIA to decide the best course of action.
"I don't really have any position," said Hamilton. "I don't feel it's my place or anyone else's place to comment. We have to wait for the FIA for their decision."
Hamilton's team-mate Jenson Button added: "Some will be outspoken, some won't. Some can be, some can't. We have to look to the FIA.
"Hopefully they know all the facts and will make the right call. We have to stay united. To say the teams can decide is wrong."
Mercedes team boss Ross Brawn said: "It's very difficult for us to make a judgement, so we rely on people who are on the ground and should know what's going on to make that judgement. We look to the FIA and FOM to guide us."
Red Bull team boss Christian Horner added: "We enter a championship to do all the races. Bahrain still very much on my calendar. Our plans are to travel to Bahrain unless somebody from the governing body tells us differently."
Lotus driver Kimi Raikkonen said: "For teams it's a tricky situation because they need to know by a certain date whether to send equipment. For drivers, we just have to change our flight ticket."