Bahrain Grand Prix to go ahead as planned, FIA confirms

By Andrew Benson
Chief F1 writer
Last updated on .From the section Formula 1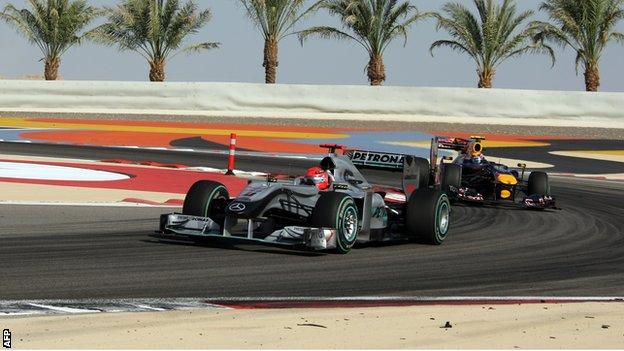 Formula 1's governing body has confirmed the Bahrain Grand Prix will go ahead on 22 April.
The decision comes after speculation about the event in the Gulf state, in which civil unrest has continued since protests in February 2011.
The FIA has been under pressure to call off the race amid security concerns.
But a statement said it was "satisfied that all the proper security measures are in place for the running of a Formula 1 world championship event".
And F1 boss Bernie Ecclestone has said in an interview with BBC F1 presenter Jake Humphrey that he would be "very surprised if we have problems".
Protesters in Bahrain have called for the race to be cancelled. It is closely tied with the ruling royal family, who are being pressured to improve human rights and make reforms by the majority Shia population, who accuse the minority ruling Sunnis of discrimination.
Pressure has built in recent weeks as riots have continued in Shia neighbourhoods.
In a statement on Friday Amnesty International said a "blind eye" should not be turned to the "ongoing human rights crisis in the country".
"Holding the Grand Prix in Bahrain in 2012 risks being interpreted by the government of Bahrain as symbolizing a return to business as usual," it added.
The FIA statement pointed to a "fact-finding mission" undertaken by the organisation's president, Jean Todt, in December last year at which he is said to have met with "a large number of decision-makers and opinion formers" from both sides of the debate.
It added: "All expressed their wish for the grand prix to go ahead in 2012 and since then the FIA has kept in close touch with all these stakeholders.
"Away from the public eye, the FIA has received regular security briefings from the most senior diplomatic officials based in the Kingdom, as well as from other independent experts."
The statement emphasised that the FIA's responsibility was to ensure "the safety of the public, officials, drivers and teams is secured at all times during the event".
F1 boss Bernie Ecclestone said: "I've never heard anything that would lead me to believe it isn't [safe]. People who live there and work there on a daily basis tell me everything's normal.
"Things can change anywhere anytime, but I don't imagine it will. I'd be very surprised if we have problems.
"I met the teams this morning and said: 'Does anybody have any problems with next week's race? No problems.'
"They're not protesting about F1. If we didn't go, whatever problems there are... would they stop Monday morning? The answer's no."
Senior F1 figures have refused publicly to get drawn into the debate, but privately many question the wisdom of sending several thousand people working on a race into a potentially volatile and unpredictable situation.
On Thursday, Red Bull driver Mark Webber was the only leading figure to speak extensively on the subject.
Sheikh Abdul-Aziz bin Mubarak, a member of the Bahrain Royal family, told BBC Radio 5 live Breakfast the issue should just be about sport.
"Sport and music do not interfere with religion or politics," he said. "I could find fault in any of the countries that host Formula One. Security arrangements are going to be low-key and discreet. There won't be a lock-down
"95% of areas around Bahrain are safe and welcoming. There are pockets of violence, but these are controlled in a better way than last year. We've made great strides."
But former cabinet minister Peter Hain told BBC Radio 5 live it was a "serious mistake" to hold the race. "This may not be the last on it," he said. "I don't think it's acceptable for the FIA to say that security concerns have been satisfied if they are at the expense of human rights activists.
"Sport is not on a different planet to politics - the two do mix."
Bahrain International Circuit chairman Zayed Al Zayani has insisted the Middle East island state was ready to host the race and criticised "scaremongering tactics", saying they helped create misconceptions about the situation in Bahrain.