Nico Rosberg will stay strong all season, says Jenson Button

By Andrew Benson
Chief F1 writer in Shanghai
Last updated on .From the section Formula 1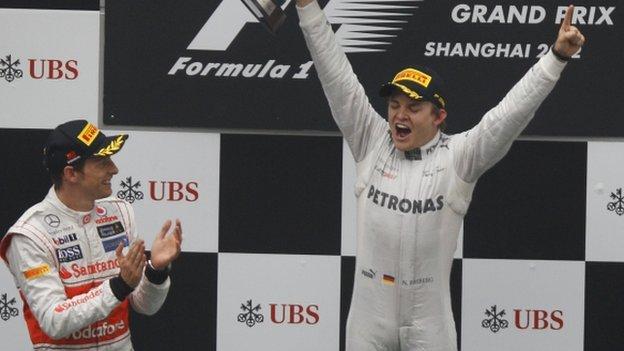 Jenson Button believes Mercedes and Nico Rosberg will be a threat at the front all year following their maiden win in the Chinese Grand Prix.
The German dominated in Shanghai to take his first victory at the 111th attempt and Mercedes' first since 1955.
"I'm sure this won't be Nico's first and last win," Button said.
"They seem to be very fast this year and Nico hasn't put a foot wrong all weekend. I think we'll have a battle on our hands, which is good to see."
Rosberg led from the start, and an anticipated battle for the lead with Button in the final laps never materialised after the McLaren driver was delayed at his final pit stop.
The two men's careers have been similar, in that Button had to wait until his 113th race to take his first win.
Button won his world title with Rosberg's current team in their previous incarnation as Brawn in 2009. Mercedes bought the outfit at the end of that season to return to F1 as a constructor for the first time since 1955.
Button was one of many people in F1 to offer their congratulations to Rosberg.
"It's amazing how with some people it can happen immediately, others it takes a bit more time," Button said. "It's different for all of us."
Rosberg, who out-qualified the field by 0.5 seconds to lay the foundations for his victory, also expects Mercedes to continue to be strong.
"From the beginning of the year we were strong in qualifying, but not so in the race," the 26-year-old said.
"We're still strong in qualifying and we're even better in the race. I'm sure we can continue this ongoing development."
He described his achievement as "very special. Firstly just to win my first race is very special and then everything that comes together - the Silver Arrows, the team have been working together with for the last two years."
He added: "[It's an] unbelievable feeling. Very cool, very happy, very excited. It's been a long time coming for me and the team also.
"It's amazing, and it's really nice to see how quickly we are progressing, I didn't expect to be that fast today,"
Mercedes team boss Ross Brawn described Rosberg's performance as "stunning".
Rosberg's team-mate Michael Schumacher was running second in the first stint of the race, holding up a train of cars as Rosberg built a lead, but he was forced into retirement when he was sent out of the pits before a mechanic had tightened his right front wheel.
The team were fined 5,000 Euros (£4,130) for an unsafe release from the pits.
Brawn masterminded all of Schumacher's seven world titles, two with Benetton and five with Ferrari, but he said his first victory with Mercedes was one of the best moments of his career.
"I am elated," Brawn said. "Any race win is special, but after a tough time to win a race like that is very special.
"It was a super, super job from Nico. The engineers and drivers knew exactly what they had to do and they did it perfectly."