Chinese GP 2012: Gary Anderson's technical review

By Gary Anderson
BBC F1 technical analyst
Last updated on .From the section Formula 1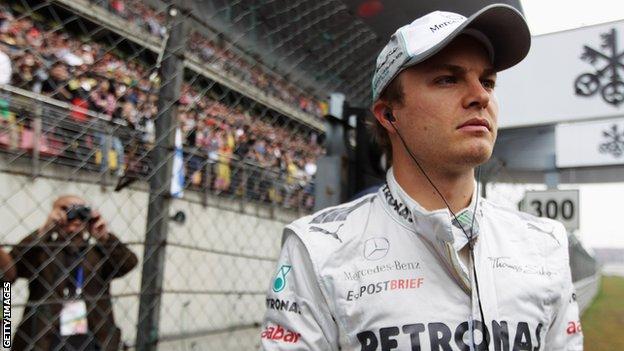 Nico Rosberg drove a great race in a Mercedes that was genuinely quick to claim his maiden grand prix victory in Shanghai.
It was the consistency of Rosberg's lap times - and the speed at which he did them - that won the race for him.
He and team-mate Michael Schumacher took two different approaches to the race.
Rosberg was pushing on at a competitive level but not abusing the tyres, whereas Schumacher was driving as quickly as the car behind him to minimise the tyre problems the team were worried about.
I don't think Schumacher was deliberately holding up the cars behind him. I think he was being quite clever - driving at the lap time he needed to stay that bit ahead.
It was sensible of him to not chase Rosberg because Mercedes didn't know, going into this race, what their tyre wear would be.
On Friday they were disappointed with the race-simulation run they did, and their rivals were expecting them to struggle for pace.
Team boss Ross Brawn told me they did some good work overnight on Friday, and they tried out the set-up changes at the end of the Saturday morning session to see what it was like. But that was only three or four timed laps, so it was hard to get an indication and they went into the race a bit blind.
They were genuinely surprised their pace was so good.
Schumacher's race was ruined when he was released from his first pit stop without a properly tightened right-front tyre nut.
Jenson Button's hopes of beating Rosberg were wrecked in similar fashion, although in his case a cross-threaded wheel nut simply delayed him and put him back into the madcap battle for second place.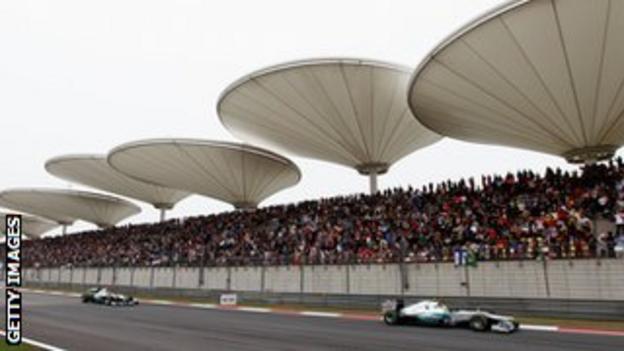 Without those problems, I don't know whether Button would have challenged Rosberg - but it certainly would have been closer.
McLaren seemed to make a pit-stop strategy plan and just go for it, and the way the day turned out they probably didn't need to do that.
They could probably have gone a bit further and been in a different situation - they may even have been able to do just two stops.
Their first stop came very early - and that really changes the dynamics of your race.
If you pit first all the time, you're going to drop into other people and they're going to be slower because they have older tyres. Getting past them delays you.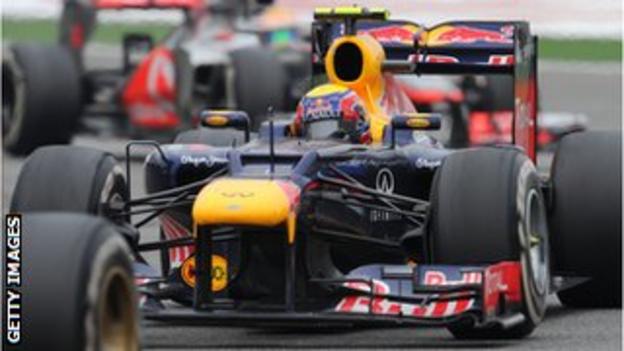 The field is so close this year that I think strategy needs to be a living thing. You can't plan it; you need to call it when it happens.
Still, McLaren got away with it, producing a good run to second and third thanks to some genuinely good overtaking from Button and Lewis Hamilton, and not just with the DRS overtaking aid.
Both Red Bulls made really bad starts and got stuck in traffic.
But I think Webber will feel that had he not run wide while battling with Hamilton and then got airborne when getting too wide again out of Turn 13, he could have been on the podium instead of Hamilton.
The wheelie was a scary moment. It was thinking about going over and then it came down very quickly - Webber said he lifted a little to get it to come down again.
TECHNICAL
All the talk before the race was that Mercedes would struggle with their tyres and go backwards. But they were on pole position thanks to a very good lap from Rosberg and they turned it into leading the race and doing competitive lap times.
Their Friday lap times didn't look that impressive but they learned the lessons from Australia, where they used the tyres too hard, and Malaysia, where they didn't use them enough, and found a set-up that was a middle ground.
It is difficult to be sure about their ultimate pace compared to McLaren because there was no straight fight. You don't know how much Rosberg had left in himself, or whether a fraction of extra pace would have ruined his tyres.
Bahrain will be a different challenge again, with 50C track temperature. That will test whether Mercedes have really solved their tyre-wear problems.
The cooler temperatures seemed to help Mercedes get pole and hurt a few others - and the conditions were the same in the race.
Maybe the heat in Bahrain will bring the McLaren alive again. Their race was ruined in qualifying and by Hamilton's gearbox penalty - you need to be closer to the front than fifth and seventh.
Gary Anderson was talking to BBC Sport's Andrew Benson