Formula 1's greatest drivers. Number 17: Emerson Fittipaldi
By Andrew Benson
Chief F1 writer
Last updated on .From the section Formula 1
BBC Sport is profiling 20 of the greatest Formula 1 drivers of all time. The BBC F1 team were asked to provide their own personal top 20s, which were combined to produce a BBC list.
Chief F1 writer Andrew Benson profiles number 17, Emerson Fittipaldi - while Murray Walker gives his own recollections in the video above.
Emerson Fittipaldi was a trailblazer in more ways than one.
He was the man who paved the way for future generations of Brazilian drivers to make their country synonymous with Formula 1.
But he was also the driver who held the title of youngest ever champion for more than 30 years - before it was broken in quick succession by Fernando Alonso, Lewis Hamilton and Sebastian Vettel.
Fittipaldi took that mantle from the great Jim Clark - he was almost two years younger in 1972 than the Scot had been when he won his first title in 1963, which says a lot about what an achievement it was.
Like fellow countrymen Ayrton Senna and Rubens Barrichello, both of whom looked up to him, Fittipaldi was born in Sao Paulo, at a time when it was not usual for Brazilian racing drivers to make it to Europe.
But he and his older brother Wilson were addicted to speed from an early age, and Emerson left for Europe in 1969.
Less than two years later, after winning regularly in the British junior formulae, he was drafted into the Lotus F1 team - then on its way to the world title with Jochen Rindt - at the 1970 British Grand Prix.
When the Austrian was killed in practice for the Italian race at Monza, Fittipaldi became team leader. His first victory - in only his fifth grand prix - not only confirmed him as a major talent, but also sealed Rindt's posthumous title.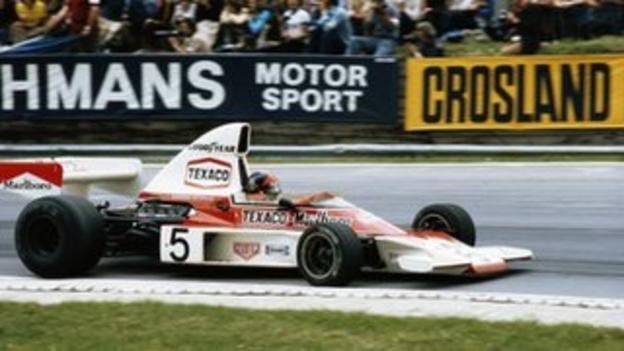 A road crash in France, in which he and his wife Maria Helena were seriously injured, held back his 1971 season, but in 1972 Fittipaldi dominated in the iconic black and gold Lotus 72.
He won five of the 11 races, among them a superb victory in the British Grand Prix in which he held off the Tyrrell of Jackie Stewart, who remains a great friend of a man whose driving he rated very highly indeed.
Fittipaldi was the right driver in the right car at the right time - he barely put a foot wrong all year.
His first title in the bag, though, Fittipaldi was never as out-and-out competitive again, preferring to win by craftiness and intelligence.
That may have had something to do with his team-mate the year after he won his first title.
Fittipaldi was joined at Lotus in 1973 by the mercurial Ronnie Peterson, and he was not especially happy about it.
Peterson had a reputation as the out-and-out fastest man in F1, and he duly proved to be quicker in qualifying than his team leader.
But Fittipaldi's canniness gave him an edge in the races - and arguably made him a greater all-round driver.
In some ways, their relationship was a little like that of Senna and Alain Prost in their early days at McLaren - Fittipaldi, like Prost, was better at setting up the car, and Peterson, like Senna, would generally then go and drive it faster.
Like Prost, Fittipaldi preferred to play the percentages - but, like the Frenchman, he was super-quick, too.
Nevertheless, one year alongside Peterson was enough for him, and Fittipaldi left at the end of 1973 to join McLaren, where he won his second title in 1974.
It was the archetypal 'percentage' world championship, three wins and four podiums enabling him to edge Clay Regazzoni of the resurgent Ferrari team to the title.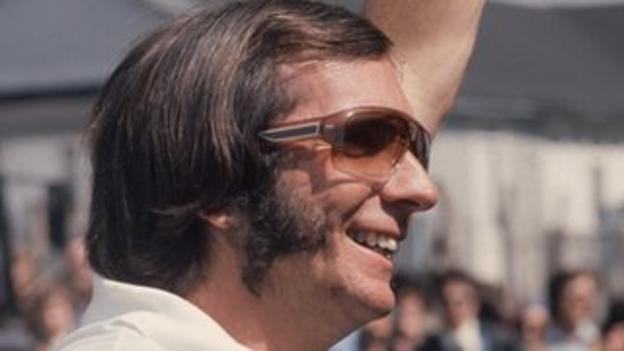 At that point, Fittipaldi appeared set to be a man who would play a major role in F1 throughout the 1970s. He certainly looked the part. His long hair, sideburns, sunglasses, vulpine appearance and fur coats making him an archetypal superstar of that decade.
Instead, he let it all slip away.
Fittipaldi stayed at McLaren for one more year, taking two more wins as Niki Lauda romped to the title with Ferrari, before leaving F1 aghast with his decision to quit and set up his own team.
It was a decision based on patriotism and loyalty to his brother Wilson and their friend Ricardo Divila, who would be their designer.
With sponsorship from major Brazilian companies, it was essentially a national team - but it was a disaster and it wasted the career of one of the sport's finest ever drivers.
Fittipaldi stayed with his family team for five unproductive years, scoring a best result of second - in the Brazilian Grand Prix appropriately enough, in 1978, their most successful season.
By the end of 1980, though, he had had enough, and he retired from racing at the age of 33, to concentrate on a management role with his team, which folded at the end of 1982.
It may not have been clear at the time, but the smooth, clinical talent was all still there. In 1984, he started a new career in IndyCar racing in the US, going on to win the title in 1989 and the Indy 500 twice, in 1989 and 1993.
What could he have achieved, one is bound to ask, if patriotism and loyalty had not taken precedence over ambition?