Formula 1 given safety assurance over Bahrain Grand Prix
Last updated on .From the section Formula 1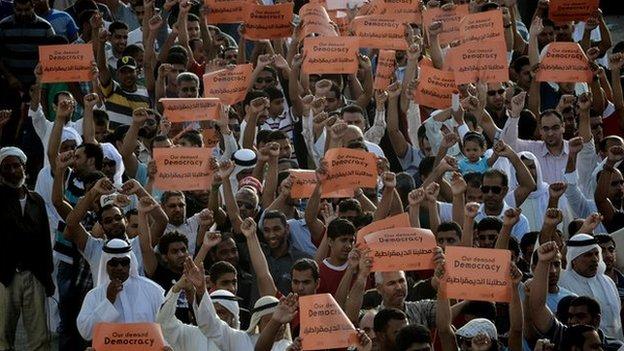 No-one travelling to the Bahrain Grand Prix will be in danger, according to the leader of the nation's opposition Centre for Human Rights group.
Civil unrest in the country had led to calls for the race to be postponed, while some pro-democracy demonstrators have protested against F1.
But Nabeel Rajab said: "Nobody will harm anybody, no-one in a Formula 1 team, nobody.
"They are angry at the sport, but it's not personal, it's about politics."
Anti-government protests in the Gulf kingdom caused the 2011 race to be called off, and a number of teams expected a similar outcome for this year's race amid security concerns.
But the FIA said it was "satisfied that all the proper security measures are in place for the running of a Formula 1 world championship event", and the race will go ahead on Sunday.
However, with practice in Sakhir due to start on Friday, protests have continued in the capital, Manama.
Rajab added: "We're protesting to show anger at Formula 1 for conducting the race here.
"People see Formula 1 as representing these dictators, and it is not good, not even for Formula 1.
"The ruling regime should be punished and not rewarded with Formula 1."