Formula 1: McLaren's Lewis Hamilton warns of Mercedes threat

By Andrew Benson
Chief F1 writer
Last updated on .From the section Formula 1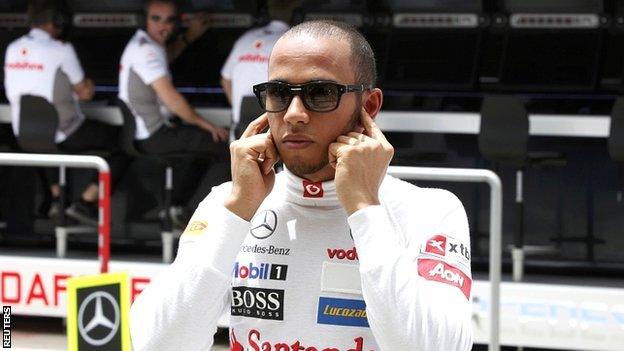 Lewis Hamilton believes Mercedes are now a major rival to his McLaren team for race victories.
Hamilton, who is leading the world championship after the first three races, said he believed Mercedes had discovered how to be quick in qualifying and on race day.
"I just saw their long (race simulation) run and they were very, very good," Hamilton said in Bahrain.
"I think they've cracked it and they're just as good as us."
He added: "They've pulled something out of the bag. I don't feel we have the pace for pole."
Hamilton was speaking after Mercedes driver Nico Rosberg, who won the last race in China on Sunday, set the fastest time in Friday practice for the Bahrain Grand Prix by nearly half a second.
The German headed Red Bull's Mark Webber and Sebastian Vettel, with Hamilton nearly a second slower than Rosberg.
Mercedes' second driver Michael Schumacher was fifth fastest, ahead of Hamilton's team-mate Jenson Button, who was not happy with his car.
"The times haven't been good all day," Button said.
"On one lap the Mercedes seems very quick and the Red Bull seems very strong here and on the longer runs, forgetting the lap times.
"I don't feel very happy with the balance of the car and the direction we have gone in."
But McLaren team boss Martin Whitmarsh said he believed a change in conditions had made the gaps between the drivers look bigger than they actually were.
"It was a tricky session," Whitmarsh said.
"The wind swung round about halfway through the session, one of the challenges on this island is the way the wind can change very dramatically and quickly and in its intensity and direction.
"The wind turned round so from Turn Four and (through) the fast corners (of Turns Five and Six) it was a tail wind and that really unsettled the car.
"You saw some cars doing decent times. Nico did a great time, and then Michael (out) at the same time as us was a second slower than his team-mate."
Rosberg, like all the drivers, complained of high tyre degradation because of the high temperatures in the desert.
"It has been a good day, for sure, and nice to be quickest also," he said.
"We know the car is good on lower fuel. On high fuel, I'm not sure, considering the conditions are probably the worst they'll ever be this year in terms of tyre overheating."