Force India boss defends decision to pull out of second practice
By Tony Dodgins
& Andrew Benson
Last updated on .From the section Formula 1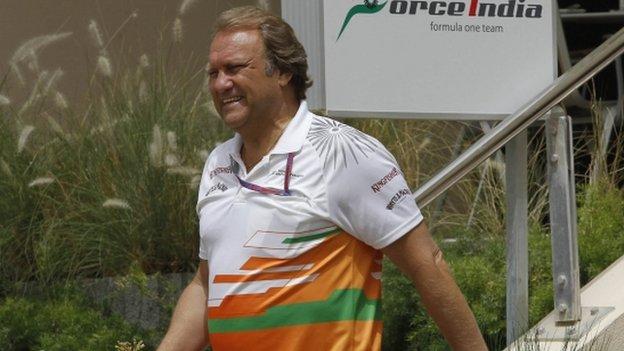 Force India deputy team principal Bob Fernley said his team were in danger of "unravelling" had he not withdrawn them from second practice in Bahrain.
Fernley told BBC Sport: "For me, the most important thing is I have a unified team.
"If we hadn't taken the steps we did, we were close to unravelling."
He added: "It was just very, very important."
Fernley was visited by Ecclestone and the Bahraini Crown Prince during the first session of practice on Friday morning.
Ecclestone tried to persuade him to run the cars in the second session, offering to stay at the track with the team as late as they wanted and travel with them back to their hotel, with a police escort if they wanted one.
But Fernley decided Force India would not run in second practice on Friday because team members wanted to return to their hotel in daylight.
On Wednesday evening, returning to the capital Manama from the track, four Force India mechanics were caught between protestors throwing petrol bombs and riot police firing tear gas.
A petrol bomb landed close to their car before the traffic cleared and they were able to escape.
In the aftermath of the incident, two team members were granted permission to return to the UK after indicating they were uncomfortable about staying in Bahrain.
"Emotion and logic don't always go hand in hand," Fernley said, "but you have to deal with it in the way you do.
"From the outside looking in, you can't get the feelings we have - or I have - here.
"It might not be comfortable or palatable for everybody, but I have to stand by what I believe is right."
Paul di Resta did an impressive job to be seventh fastest in the second part of qualifying, despite the lack of running, and Fernley joked that "the boys [mechanics] now think they should be doing deckchairs in FP2".
Di Resta ended up qualifying 10th after the team decided not to run in the final part of qualifying in order to save tyres for the race.
"Very happy. Given the circumstances this weekend, getting the work done was difficult," said Di Resta.
"The car felt quite far away this morning but we managed to dial it in and we did a great lap in Q2 that was only 0.3secs from the quickest.
"It was a bit unfortunate not to run in the final part and we lost a few positions out of that but took it from a strategic point of view to put ourselves in the best position for tomorrow to try to score some points."
Fernley added that Di Resta's team-mate Nico Hulkenberg, who qualified 13th, would have been "right alongside Paul" had he not "made a small mistake in Turn 13 and lost a couple of tenths [of a second]".