Bahrain GP 2012: Gary Anderson on Kimi Raikkonen's display

By Gary Anderson
BBC F1 technical analyst
Last updated on .From the section Formula 1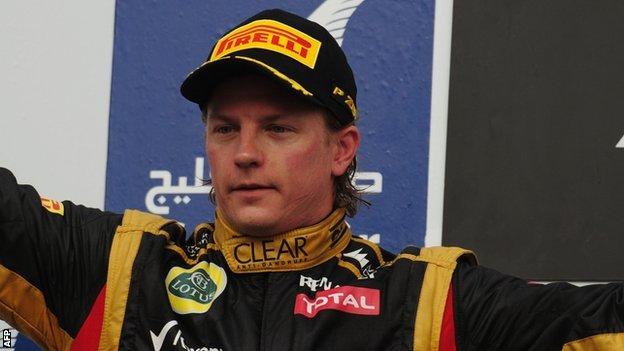 Sebastian Vettel's victory for Red Bull in the Bahrain Grand Prix epitomised this unpredictable Formula 1 season.
A week after qualifying 11th and finishing fifth in China, the world champion won from pole.
In some ways, this was the Vettel and Red Bull of last year - sprint away from the start and get out of the zone in which a rival can use his DRS overtaking aid as soon as possible.
He used the same tactic after every pit stop, using fresher tyres to build a lead that he protected for the rest of the stint.
It revealed a confidence in the car that we have not seen from Vettel very often this year and it also suggested Red Bull have the best handle on getting the tyres to work across qualifying and race day in different conditions.
The way to do that is to have the car handling well, which overcomes the tyre problems everyone keeps talking about by keeping them in the right working temperature range.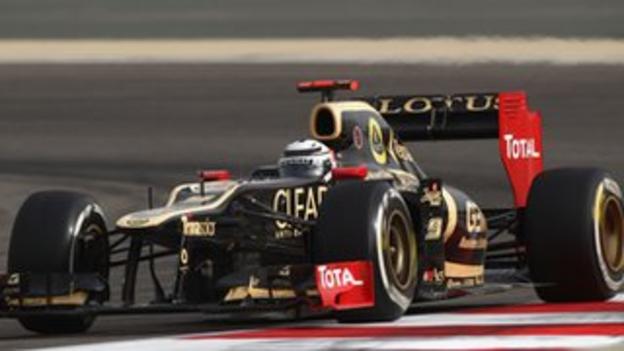 Lotus showed that too. Their approach to the race was interesting, and in hindsight they might think they could have won it.
They chose to have Kimi Raikkonen deliberately miss out on the top-10 qualifying shoot-out so he could have more fresh sets of tyres for the race.
That worked well thanks to an aggressive first few laps from Raikkonen, in which he made up a lot of places. But their race strategy could probably have been a little more aggressive and responsive.
I think they waited too long to call Raikkonen in for his final stop. I would have pitted him on lap 36, the first time he used his DRS to try to pass Vettel, using a surprise stop to sell Vettel a dummy and ensure Red Bull could not respond.
Raikkonen was two seconds a lap faster on fresh tyres and that would have been enough to "under-cut" Vettel. But Lotus waited until his tyres had gone away and ended up coming in on the same lap as Red Bull.
I suspect Lotus were very keen to make sure of second place and, after the problems they had in China when they pitted too early and Raikkonen ran out of tyres at the end of the race, they did not want to take any risks.
But as the guy behind Raikkonen was his team-mate Romain Grosjean, they would still have got second and third, as Webber was far enough behind not to cause too much of a problem.
At McLaren, Lewis Hamilton would have been disputing fourth place with Webber, but he lost 16 seconds compared to Vettel with problems at all three pit stops.
McLaren also had a problem with degradation on their rear tyres - exactly as they had on Friday afternoon, when the wind was in the same direction as it was in the race, a tailwind through the fast Turns Five, Six and Seven.
Their car looks a bit more wind-critical than others, something I've experienced with some of my own cars in the past.
It was the second time in four races they have had tyre problems in races, albeit of a different kind. They suffered in the damp in Malaysia, where the tyres were not getting hot enough, but Bahrain presented the opposite problem.
It was also interesting to hear Mercedes' Michael Schumacher complain about the Pirelli tyres.
He is a professional racing driver, and it's all about looking after your tyres. You do that by getting the right balance on the car.
When I was involved with Bridgestone tyres with Jordan in the early 2000s, in the middle of the tyre war with Michelin, Schumacher and Ferrari had tyres we were not even allowed to look at.
They cost so much money that Bridgestone could not afford to supply them to everyone. And whenever we did have an opportunity to run a derivative of those tyres, our lap times were much, much better.
It's a bit sad that Michael now sees things the other way around, because a lot of his competitiveness in those days was down to the working relationship he and Ferrari had with Bridgestone, one to which nobody else had access.
Now there's a standard tyre, it's down to him and Mercedes to get it working properly, not point the finger at the supplier.
TECHNICAL
Red Bull's qualifying form was notably improved in Bahrain, and that is down to the quality of their car and the characteristics of the circuit.
China, where they had their worst qualifying of the year, was front-tyre limited - which means it is the front tyres that wear most quickly. That helps any team that has a problem with rear tyre wear, such as Mercedes.
But in Bahrain tyre wear is more even, perhaps slightly biased to the rear, and the problem caused by the track surface and higher temperatures is thermal degradation. The Red Bull is pretty good at handling that.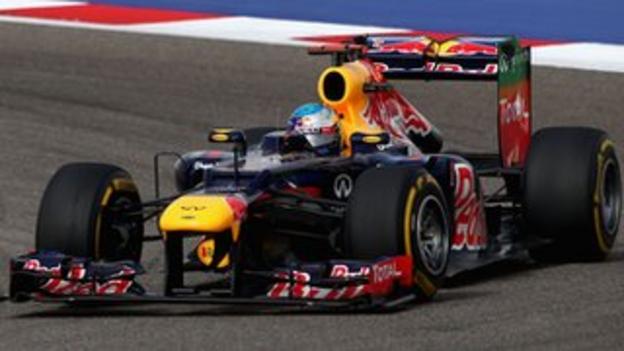 Red Bull were also helped by Vettel going back to the newer-spec car after using the older one in China. Having two drivers in the same car more than doubles the workload you can do over a weekend.
Vettel's problems this year seem to have been that he has gone down a set-up route that was not working. I'm told he adopted Webber's set-up for qualifying in Bahrain.
Vettel did not like the rear-end nervousness in the car, and he was trying to dial it out, which was making the car slower, while Webber was working with the nervousness and making changes that made the car faster.
There were also a few little developments on the car. They closed off the ducts that were taking air out of the rear of the sidepods into the "coke-bottle" area. In China, they were using some "flo-viz" paint to assess the airflow coming out of those ducts, and it looked to me as if it was going in the wrong direction. It seems Red Bull have come to the same conclusion.
The idea of the duct was to make the coke-bottle work better and produce more downforce, but it was probably making the downforce a bit inconsistent. By blanking it off, they haven't got the advantage they were looking for, but they haven't got the downside either.
Gary Anderson was talking to BBC Sport's Andrew Benson