Formula 1's greatest drivers. Number 16: Nelson Piquet
By Andrew Benson
Chief F1 writer
Last updated on .From the section Formula 1
BBC Sport is profiling 20 of the greatest Formula 1 drivers of all time. The BBC F1 team were asked to provide their own personal top 20s, which were combined to produce a BBC list.
Chief F1 writer Andrew Benson profiles number 16, Nelson Piquet - while Murray Walker gives his own recollections in the video above.
Few drivers have had perceptions of them shift as dramatically throughout their careers as Nelson Piquet.
For a while in the mid-1980s, Piquet was regarded as the best driver in the world but, as his career went on, his stock fell and at the end he slipped out of F1 almost unnoticed - and largely unlamented.
How did this happen to a man who is one of only eight drivers to win three or more world titles?
The son of a prominent Brazilian politician, Piquet made a low-key entry into F1 with a backmarker team midway through 1978 but, by the end of that season, he joined Brabham where he was to stay until 1985.
As team-mate to Niki Lauda, Piquet was increasingly impressive through 1979, rapidly becoming their lead driver as the great Austrian's motivation flagged - Lauda finally called it a day part-way through the Canadian Grand Prix weekend towards the end of the season, declaring he was bored of "driving around in circles".
Piquet's elevation to team leader could not have come at a better time. There followed two years where he not only had one of history's great cars but also had uncompetitive pay-driver team-mates, so faced no competition from within the team.
He lost an increasingly bitter world title battle with Williams driver Alan Jones in 1980.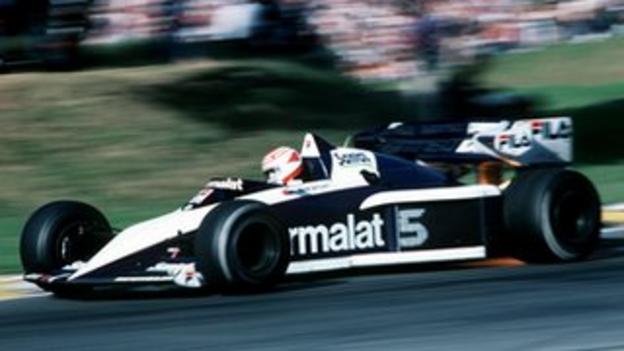 But the following year he won three races and somewhat fortuitously took the title after the favourite, Carlos Reutemann of Williams, inexplicably faded from pole position to finish seventh at the final race of the year.
Unfit and almost comatose in the desert heat of Las Vegas, Piquet had to be revived and lifted out of his car at the end of the race, but still managed to finish fifth, passing the Argentine on the way.
The year of his first title defence was lost in a haze of blue smoke and fire as BMW perfected its new turbo engine, following in the footsteps of Renault and Ferrari.
But the hard work paid off in 1983, when Piquet and Brabham-BMW became the first people to win the F1 title with a turbo engine.
Reliability took a hit in 1984, but if anything Piquet's reputation soared as he took nine poles and two wins amid more engine failures.
But the relationship between team and driver, once so strong, was beginning to sour. Brabham boss Bernie Ecclestone's decision to use uncompetitive Pirelli tyres in 1985 did not help, but the real issue was money.
Piquet, a notorious womaniser, lived a simple life, avoiding PR work and preferring to spend his time away from races on his boat. But he knew his worth, and Ecclestone was not paying him it.
So when Frank Williams offered him £3m - a record at the time - to join his team for 1986, Piquet agonised over it but eventually accepted.
He was teamed with Nigel Mansell, and most expected the double champion to comfortably have the edge on a man who had only just broken a five-year win duck.
Mansell, though, quickly established himself as the faster driver, and the two fought a tense duel for the title in both 1986 and 1987 as Piquet put guile to work against Mansell's brute force.
In the first year, Mansell won five races and Piquet four, but both ended up losing out on the title - deservedly, many felt, to Alain Prost, who drove exquisitely in the less-competitive McLaren, and who by now had replaced Piquet in most eyes as the best driver in the world.
In 1987, Piquet's form suffered after a monumental crash at Imola early in the season - at the same corner where Ayrton Senna was later killed - but he used his cunning to win the title, despite winning only three races to Mansell's seven.
At the end of the year, Piquet left Williams, taking the standard-setting Honda engines with him to Lotus.
But the Lotus was not a good car, and Piquet was nowhere near as far ahead of team-mate Satoru Nakajima as Senna had been the year before.
As Piquet slid out of the limelight, so the mischievous - some would say unpleasant - side to his character came to the fore.
He notoriously called Mansell "an uneducated blockhead with a stupid and ugly wife" and referred to Senna disparagingly as "the Sao Paulo taxi driver", as well as making derogatory comments about his private life.
The remarks served no purpose other than to diminish further Piquet's reputation. It escaped no-one that he was making these remarks about men who had by then established themselves as better drivers than him.
Nevertheless, he did have a last hurrah. Piquet joined Benetton for 1990, and the season ended with two unexpected wins, albeit in races in which major contenders Senna and Prost did not finish.
There was a final win in Canada in 1991, after Mansell famously stalled when he let his engine revs drop too low while prematurely celebrating on his final lap, and Piquet could not hide his delight at his rival's misfortune.
The final death knell for Piquet's career came in the shape of Michael Schumacher, whom Benetton poached from under Jordan's nose for the final five races of the season.
The young prodigy's pace was too much for Piquet and the German out-qualified his veteran team-mate in the first four of their races together.
Heading into what he by then knew would be his last grand prix in Adelaide, Piquet was determined not to let it happen again.
In practice, he completely forgot about the race performance of his car and set it up solely to be as fast as it could be over one lap, just so he could line up ahead of Schumacher on the grid.
The ploy worked, with Piquet snatching fourth, one place and 0.217secs ahead of Schumacher - only for chief race engineer Pat Symonds to burst Piquet's bubble and tell him Schumacher had missed a gear on his fastest lap. But for that, the German prodigy would have been faster again.
It was the last action of a great - but flawed - champion.
In the final analysis, Piquet might not ultimately have been quite as good as he at one stage seemed to be. But in more than 60 years of Formula 1, there have not been that many who were better.