Force India handed £650,000 legal bill in copyright dispute

By Andrew Benson
Chief F1 writer
Last updated on .From the section Formula 1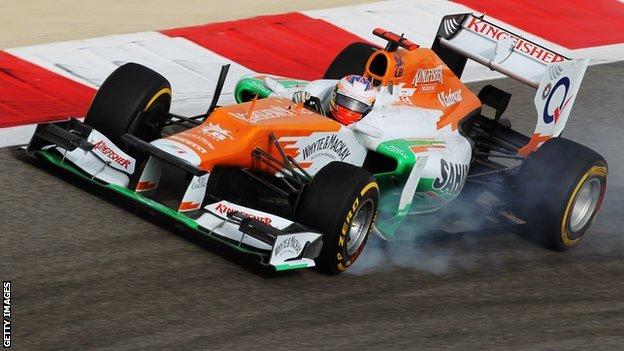 Force India have been ordered by a High Court judge to pay £650,000 legal costs to the Caterham team and their chief technical officer Mike Gascoyne.
The amount is on top of the £700,000 in fees Force India had to pay Italian race-car design company Aerolab over the same case in March.
The verdict is to do with a dispute over intellectual property involving Force India, Aerolab and Caterham.
Force India have to pay the £650,000 in costs within 14 days.
The case arose when Aerolab pursued Force India for unpaid fees before Force India accused them and Team Lotus, Caterham's former identity, of misuse of confidential information.
In the trial verdict in March, Force India were awarded £20,900 over use of its intellectual property rights, which the judge said had been used as a "shortcut" to speed up the development of the Team Lotus car for the 2010 season, when they made their debut.
The judge rejected Force India's claim that there had been "systematic copying" of their designs, saying they had "come nowhere near establishing that was the case".
In his costs verdict on Friday, the judge awarded costs on a full indemnity basis to Gascoyne dating from November 2011, which is when his lawyers wrote to Force India's lawyers offering to settle the case. Gascoyne has been awarded costs on a standard basis before that date.
Costs were awarded to Caterham's parent company 1MRT on the same basis.
The judgement brings the total costs to Force India of bringing the case to £1.35m, on top of their own costs.
The judge rejected Force India's claim that costs awarded to 1MRT should be reduced because they had been found guilty of copyright infringement.
Force India said in a statement: "The interim costs payments awarded to Mr Gascoyne and 1 Malaysia Racing in today's ruling are more than covered by funds already provided by Sahara Force India as security for costs pending the outcome of the case."
The team added that the hearing was curtailed and that the judge had delayed a decision on their request for permission to appeal against the 25,000 Euros (£20,270) of damages Aerolab had been ordered to pay in the original case.
That decision is expected later this month.