Jenson Button goes fastest for McLaren in Spanish GP practice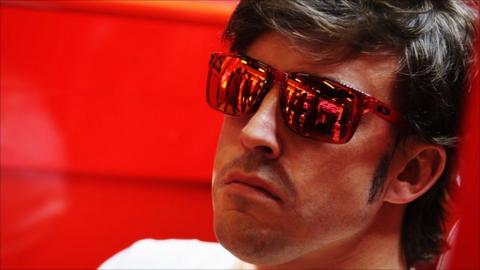 McLaren's Jenson Button beat Red Bull's Sebastian Vettel to set the fastest time in Friday practice at the Spanish Grand Prix.
The Englishman was 0.164 seconds ahead of the world champion, with Mercedes driver Nico Rosberg third ahead of the second McLaren of Lewis Hamilton.
Lotus drivers Kimi Raikkonen and Romain Grosjean were fifth and sixth.
Fernando Alonso was only 14th despite Ferrari introducing a number of updates aimed at improving performance.
Scot Paul di Resta was 15th as his Force India team, like all their rivals, tried out new parts in an attempt to gain competitiveness.
McLaren got off to a troubled start in the afternoon session, with Button twice complaining of "terrible understeer" and Hamilton saying his gear ratios were too long.
But after Vettel set the early pace as the drivers began their runs on the faster 'soft' tyres, Button usurped him a few minutes later.
Hamilton might well have been up with his fellow Englishman had he not made a mistake on his first flying lap on the soft tyres. He did his time on the second lap, by which time the rubber is past its best.
McLaren have one of the most obvious updates, introducing a new, higher nose design for this race, following the trend of virtually all the other teams.
Button said he had struggled to make the harder of the two tyres work, while Hamilton said he had suffered set-up "inconsistencies" but both men said they felt the team's upgrades and improved the car.
Fernando Alonso had an up-and-down day for Ferrari, fastest from Vettel in the morning by 0.378secs but only 11th in the afternoon, 1.201secs adrift of Button.
He blamed traffic for his lack of pace, and said the first signs from Ferrari's extensive upgrade package - including new rear bodywork and exhaust position, a new floor and new front and rear wings - were "positive".
Alonso blamed his lack of pace in the afternoon on traffic - although on his first lap he was already more than 0.3secs off the pace at the first split point on the approach to Turn Four before coming across the slower cars.
"I am not disappointed," Alonso said. "Yesterday we said we try to recover some of the gap, we do the first step here in Barcelona. I'm confident that we did the job.
"The car, all the updates we introduced today, first numbers or first signs are positive. We need to look in more detail but everything looks as expected.
"We need to wait for qualifying - (and see) how much we struggle or how tough it is to go in Q3.
"It has been quite tough for us in China, Bahrain, Malaysia, so tomorrow hopefully we will see some positive signs on this.
"Going into Q3 a little easier will be a good sign, if we go to Q3 with a lot of problems or we don't go in at all, it will be more or less the same situation as before."
BBC F1 technical analyst Gary Anderson said the updates were a step in the right direction, and may make the car as much as 0.5secs a lap faster, but he added that all their rivals were moving forwards too.
BBC 5 live analyst Jaime Alguersuari, the former Toro Rosso driver, said: "I don't see Ferrari as contenders. They may have gained 0.3-0.4secs but I don't seem them as contenders for the win or the podium. I think they'll be struggling to get into Q3 still."
It was a low-key but quietly impressive session for Red Bull, where Webber appeared to be struggling to match Vettel's pace.
The Australian, who was seventh fastest, had an off-track moment at Turn Four, going into the corner too fast and bouncing across the gravel trap. He managed to reach the area of grass between the gravel and the tyre barrier and rejoin the track, albeit peppering the circuit with stones.
Webber said the 0.5-second gap between himself and Vettel - and the similar margin between the McLaren drivers - was solely down to Vettel and Button putting together the one lap drivers get on the soft 'option' tyre.
"One timed lap with the options basically," Webber said. "If you get that right, you're not looking too bad; 0.6-0.7secs between team-mates - JB big step ahead of Lewis. It just shows you if you get everything together the lap time comes."
Alguersuari said: "McLaren look very competitive - they did a lot of laps on the soft tyre (in the race-simulation runs at the end of the session).
"I think it will be between McLaren, Red Bull and Lotus."
Spanish Grand Prix 2012, Circuit de Catalunya, day two
Saturday 12 May:

Third practice 09:55-11:05 BST BBC Red Button, BBC Radio 5 live sports extra and live text commentary on BBC Sport website; Qualifying 11:55 BST BBC Radio 5 live and live text commentary on BBC Sport website; Qualifying 12:10 BST BBC One and BBC One HD, BBC Radio 5 live sports extra and live text commentary on BBC Sport website.
Spanish Grand Prix 2012, Circuit de Catalunya, day three
Sunday 13 May:

Race 12:10 BST BBC One and BBC One HD, BBC Radio 5 live and live text commentary on BBC Sport website; Highlights 19:00-20:00 BST, BBC Three