Lewis Hamilton picks team-mate Jenson Button for Spain pole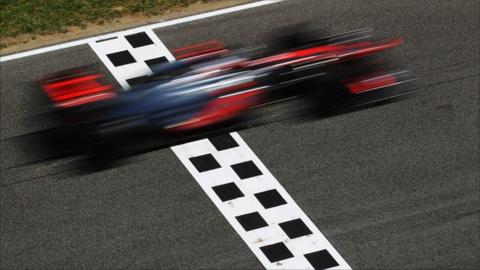 Lewis Hamilton has tipped McLaren team-mate Jenson Button as the favourite to take pole position for the Spanish Grand Prix.
Button set the fastest time in practice on Friday, with Hamilton fourth. Red Bull's Sebastian Vettel and Mercedes driver Nico Rosberg split the McLarens.
"I would say Jenson is strongest at the moment for qualifying," Hamilton said.
Button said he had had a "good afternoon but a tough afternoon" trying to understand the two types of tyres.
The 2009 world champion said he was happy with the car on the faster 'soft' tyres but uncomfortable on the more durable 'hards'.
"I'm still trying to understand the tyres," said Button, who won the opening race of the season in Australia.
"The car seems to be working pretty well on the softer of the tyres, but on the hard tyre I just can't get the temperature into them.
"I don't know why that is but it's something we need to sort out for Sunday."
Button tried two different sets of the 'hard' tyre in practice with vastly differing results.
"The first run (on hards) I couldn't get the tyres working," Button added.
"I came in to change something with the tyres to try to make them work and I went 0.5-0.6secs quicker straightaway and the car was transformed.
"We are able to make the tyre work, it just jumps out of that window easily. When it works, it works well, when it doesn't it's dreadful."
Button predicted that the Lotus cars of Kimi Raikkonen and Romain Grosjean, who were fifth and sixth fastest, would be tough to beat in the race.
"We're not the only people who have put good times in," he said. "There are a lot of very quick cars out there.
"The Lotus looks very strong, especially on a long run, the Sauber also and the Williams.
"Cars you wouldn't expect to be at the front on Sunday might be."
Hamilton was 0.510secs slower than Button and although he agreed with Button that the new, raised nose on the car, introduced by McLaren for this weekend's race, had improved its performance, he admitted: "It's not been a great day.
"I struggled a little bit with set-up.
"The (car) updates have worked really well but I struggled a little bit with pace, especially on the longer runs.
"We're in the fight, at least. I had a bit of an inconsistent set-up which means it's difficult to pin-point when I need to do to make it better, we're going to look at the data and try to find where the most serious issues are.
"The car already feels better than it was in the last race, and we're still trying to work on managing the tyres.
"The last run was pretty spectacular for me - I've never had the tyres keep going for that long and I could have kept going if I hadn't run out of time.
"So there's positives to take from it but there's a lot more time for me to get out of the car.
"Jenson did a fantastic lap so there is obviously great time in the car.
"Jenson is definitely very strong. That means we have good pace in the car and means we are strong.
"It will still be massively tough in qualifying and the race is going to be tough in these temperatures, as always looking after the tyres is going to be a massive challenge but the last long run looked pretty good so I hope that translates to Sunday as well."
Red Bull's Mark Webber has been on pole in Spain for the last two years and asked if he could make it a hat-trick, the Australian said: "Yes. Absolutely. It looks tight."
Spanish Grand Prix 2012, Circuit de Catalunya, day two
Saturday 12 May:

Third practice 09:55-11:05 BST BBC Red Button, BBC Radio 5 live sports extra and live text commentary on BBC Sport website; Qualifying 11:55 BST BBC Radio 5 live and live text commentary on BBC Sport website; Qualifying 12:10 BST BBC One and BBC One HD, BBC Radio 5 live sports extra and live text commentary on BBC Sport website.
Spanish Grand Prix 2012, Circuit de Catalunya, day three
Sunday 13 May:

Race 12:10 BST BBC One and BBC One HD, BBC Radio 5 live and live text commentary on BBC Sport website; Highlights 19:00-20:00 BST, BBC Three