Red Bull boss Christian Horner says unpredictability will continue

By Andrew Benson
Chief F1 writer at the Circuit de Catalunya
Last updated on .From the section Formula 1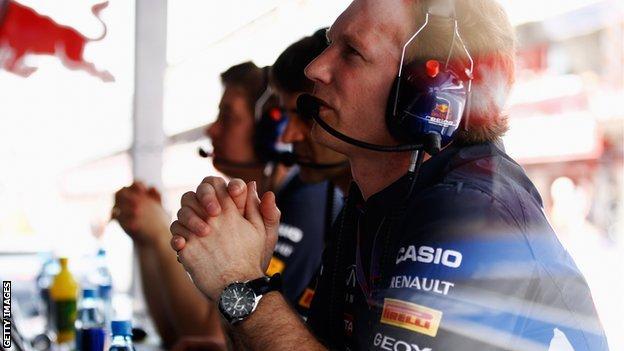 Formula 1's unpredictable results will continue for some time, Red Bull team boss Christian Horner says.
Williams driver Pastor Maldonado won in Spain on Sunday to make this the first year since 1983 to feature a different winner in each of the first five races.
Horner said: "For the time being, performance is going to fluctuate from team to team and the most important thing is to be consistent."
He added teams up and down the pit lane were confused by what was going on.
Maldonado's win follows victories for McLaren's Jenson Button, Ferrari's Fernando Alonso, Mercedes' Nico Rosberg and Red Bull's Sebastian Vettel since the start of the season.
The Lotus team, who finished third and fourth in Spain, also seem likely to score a win soon - and McLaren's Lewis Hamilton would likely have won on Sunday from pole position had he not been put to the back of the grid following a technical infringement.
Horner said: "We've seen the spotlight on different cars at different times.
"Is it conditions, is it track type, is it temperature, is it car characteristic, is it the driver?
"There are so many factors to weigh up and I'm sure these debates are going on up and down the pit lane."
Horner agrees with most senior figures in F1 that the fluctuation in form is being caused by this year's Pirelli tyres.
The teams are finding them hard to understand - with teams' performances compared to their rivals changing from race to race, day to day and sometimes between practice sessions.
"I should imagine there is a great deal of head scratching going on up and down the paddock, but it's a matter of whoever understands these tyre characteristics and manages to broaden the window of performance from track to track who will ultimately prevail," said Horner.
"It's a bit all over the place at the moment, but they're the same for everybody, and what we're seeing is aerodynamics are far less of a factor than they have been historically. I'm struggling to explain it, as you can see."
Championship leader Vettel, who finished sixth in Spain following a weekend in which he was fastest in final practice but struggled in qualifying later the same day, tied on points with Alonso but classified ahead on countback.
With form so difficult to predict, Horner believes consistency will ultimately win the title.
"Where we have done a strong job is on the days when we haven't been able to win," Horner said after the Spanish race.
"Even today we have had drive-through penalties, wing changes, and we've still managed a respectable result and recovery. Consistency over the year is ultimately going to be crucial.
"Arguably after five races we must have been the most consistent because we find ourselves leading both championships."