Ferrari demand improvement from Felipe Massa

By Andrew Benson
Chief F1 writer
Last updated on .From the section Formula 1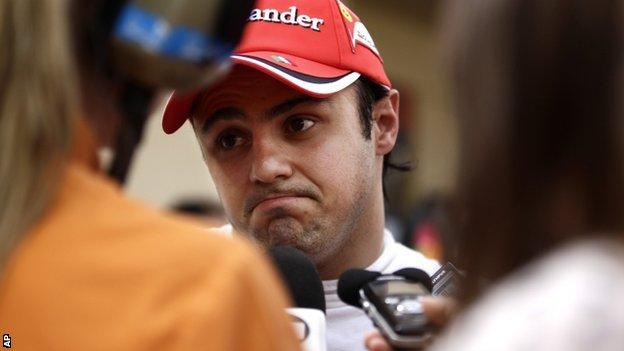 Ferrari have increased the pressure on Felipe Massa by saying they expect his form to improve immediately.
Massa has scored only two points this season, while team-mate Fernando Alonso is level on 61 points with championship leader Sebastian Vettel.
The Brazilian was 15th in the Spanish Grand Prix and was lapped by Alonso, who was second to Pastor Maldonado.
In a statement, Ferrari said: "Everyone is expecting a change of gear starting right away with the Monaco Grand Prix."
The statement, released on Monday, emphasised that Massa had been "very unlucky, both in the race and in qualifying" in Spain - he suffered traffic in qualifying, ending up 16th on the grid, and was given a drive-through penalty for a caution flag infringement.
The upturn in form was desired by Massa "more than anyone", the statement added.
But it also detailed his drop-off in form since 2010, comparing the points he has scored at this stage of the last three seasons with those of Alonso.
While Alonso has scored 67, 51 and now 61 points after five races in 2010, 2011 and 2012, Massa, Ferrari said, had scored 49, 24 and now two.
Ferrari have always been publicly supportive of Massa, emphasising that they will help him through a difficult time in his career and pointing out that their 2012 car is difficult to drive.
But the statement comes in the wake of increasing rumours that the 32-year-old will be replaced sooner rather than later.
Drivers linked with his seat include Force India's Paul di Resta and Sauber's Sergio Perez, who is a member of the Ferrari driver academy.
It also comes after the team wrote on their Twitter account following qualifying in Spain that they were "disappointed" with Massa.
A spokesman later clarified that statement, telling the Sunday Times: "It was a poor choice of grammar. We are disappointed in the outcome of Felipe but not with Felipe himself."
Alonso's position at the head of the championship is a surprise considering the relative lack of performance of the car.
A major upgrade for Spain resulted in a marked improvement in pace.
The double world champion qualified third, which became second following a penalty for fastest qualifier Lewis Hamilton of McLaren, when his previous highest grid position had been ninth.
Team boss Stefano Domenicali said: "It takes very little to change the hierarchy among the teams and this rule is even more true when the differences are just a few tenths or even hundredths.
"This year, the winner will be whoever manages to bring the best technical updates to the track in the shortest time possible: staying still for just a handful of races could mean finishing out of the points, given that so many teams have proved capable of fighting for the top places.
"We achieved our goal of making a step forward in Spain, but we must continue down this path, especially as the gap to the time that gave Hamilton his pole position is still too big."