Mark Webber on Williams's win and 'incredible' Premier League

By Mark Webber
Red Bull driver
Last updated on .From the section Formula 1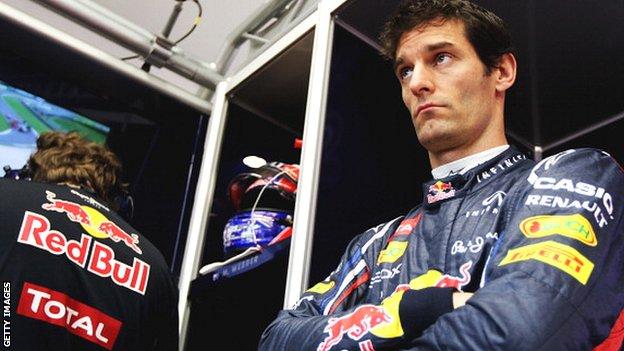 The Spanish Grand Prix was an amazing weekend for Williams.
Pastor Maldonado won his first grand prix, Williams's first since 2004, and the team were also celebrating the 70th birthday of founder Sir Frank Williams.
There was a bit of a get-together on Saturday at Williams in the paddock. All the different teams and all the people who have worked with Frank past and present went down to see him.
It was great to have some time with him. A lot of people who have worked with him will relate to the fact that you probably get a bit closer to Frank when you're not working with him than when you are, because he keeps you on your toes when you're there. Fair enough.
Jenson Button and I have both driven for Williams in the past and we had a bit of a chat with him.
I just told him that what he has done is totally inspiring.
Let's not beat around the bush. Frank has been paralysed since a road accident in 1986 and to get to 70 years old in his condition and achieve what he has at the same time is an astonishing effort.
That is unique and incredibly special, and there are so many people around the world who can draw inspiration from what he has done in taking on that new life head on. He didn't throw the towel in; he stayed mentally very strong.
I said to him: "Mate, 70 years old, plenty of years to go yet."
And he said in that slow, quiet voice he now has: "Yes, absolutely."
A DESERVED WIN FOR WILLIAMS
That was Saturday night, about the time it was announced that Lewis Hamilton had been thrown out of qualifying and Williams driver Pastor Maldonado was promoted to pole position. And then Pastor went and won the race on Sunday.
It's an unreal result considering the last two or three years Williams have had, which have been very difficult apart from the odd highlight here and there.
Pastor was on for a good result in Melbourne at the start of the season before he crashed behind Fernando Alonso on the last lap, and you just thought: "When are they going to have a tonic?"
That result in Spain was exactly the tonic they deserved. I think a podium would have been enough. But a win? Bloody hell.
It was a terrible shame that the fire in their garage just after the race took some of the joy out of the victory.
As ever in these cases, it was great to see the camaraderie that exists in F1, with the mechanics from other teams having no hesitation in diving in to help, despite the risks involved, and offers of assistance to Williams subsequently.
It was, nevertheless, a reminder that Formula 1 can never be totally safe - there are plenty of dangers on and off the track, and we always have to do our best to ensure they are as under control as possible.
I'm sure Williams and the FIA between them will learn lessons from this, and my thoughts and best wishes for a full recovery are with the guys who were injured.
A BIZARRE F1 SEASON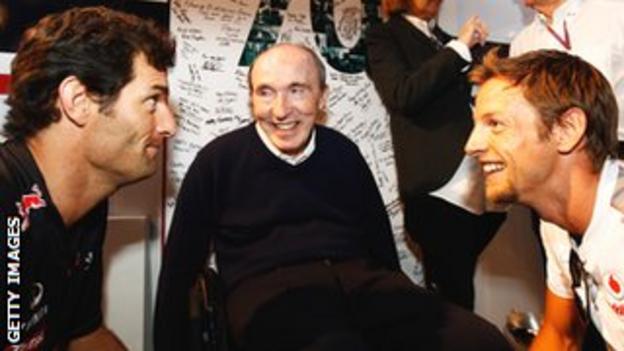 I saw the scoreboard on the race-control tower during the race and I would never have had my money down on Fernando not being able to do it, especially when he won the start.
Pastor was the fifth different winner in five races this year. It's been a very difficult season to predict, and it remains impossible to read.
Up until China the races were very close, with the field closely packed together. Then in Bahrain and now Spain we've had some big gaps and the field has been spread out.
In Bahrain there was a 20-second gap behind the guy who was third, Lotus driver Romain Grosjean, which I fell into. But if I'd been that far behind in China I would have been outside the points.
It's a really open season and what is clear is that the tyres are the biggest factor to get right.
All the teams are struggling to understand them. On Friday in Barcelona, for example, Jenson looked really strong, and yet he finished the race ninth, not being able to get any pace.
Drivers and teams do everything they can to try to predict how the car is going to be at a given race and how the tyres are going to behave.
But it looks like there are some other ingredients that can tip it in a different direction for you and you suddenly end up in a whole other box.
The results are all over the place. One day I'm ahead of my team-mate Sebastian Vettel, the next he's ahead of me. There are sometimes huge gaps between team-mates.
People might say it's great to see really clever people struggling to work things out, but the other side of it is we like to push the boundaries and limits. We are the pinnacle and we like to get things as close to perfect as possible.
WEBBER UNSPUN
What an incredible end to the Premier League season.
Manchester United's hopes were effectively ended by QPR's Joey Barton getting sent off in the match against Manchester City, who then scored two goals in stoppage time to win the game and clinch the title.
It's amazing how much a sending off changes things, especially when you've got tired players against a team of the quality of Man City.
QPR scored after Barton was sent off but, playing against 10 men, City will have smelt blood.
It was pretty much like Lewis Hamilton's world championship in 2008. It went to the last second, the last kick of the game won the title.
In amongst all that, QPR were trying to secure their place in the Premier League, and succeeded despite losing. Bolton went down, despite drawing at Stoke. You couldn't have scripted it.
In F1, our next race is Monaco next weekend, the same day as the Indianapolis 500. Indy is one of the motorsport classics and I'm always interested in it - but even more so this year with Rubens Barrichello having his first crack at it.
Rubens is a great guy and I hope it goes well for him.
On a sadder note, a speedway rider, Lee Richardson, was killed on Sunday night in Poland, where he was riding in the domestic league.
I'm a big fan of speedway, as you may know, and Lee was a classy rider, a true gentleman and a great ambassador for the sport on and off the track.
It's always tragic to lose somebody like that and my thoughts are with the speedway community at this sad time.
Mark Webber was talking to BBC Sport's Andrew Benson.