Williams team member burned in Spanish GP pit fire returns to UK
Last updated on .From the section Formula 1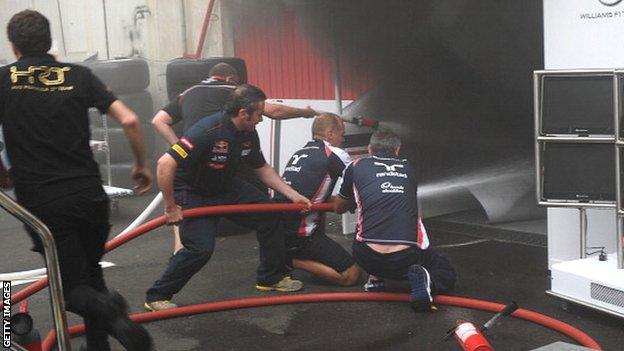 The Williams team member burned in the garage fire after the Spanish Grand Prix is back in the UK for treatment.
The only person seriously hurt in the fire on Sunday, he spent two nights in a hospital in Barcelona and was flown back to England on Tuesday.
Williams chief operations engineer Mark Gillan said: "One team member remains in hospital having suffered burns.
"But he is in a stable condition and in good spirits and has returned to England for further care."
Gillan emphasised how grateful Williams were for the help from members of other teams who dived into the garage to help control the fire and get people out.
"I would like to reiterate our thanks to everyone in the paddock who helped the Williams team on Sunday to control the fire," he said.
"There were a number of people who attended the circuit medical centre, mostly as the result of smoke inhalation."
The fire broke out as the team were celebrating Pastor Maldonado's victory in the grand prix - the Venezuelan's first in Formula 1, and the team's first since 2004.
Williams and governing body the FIA are jointly investigating the causes of the incident.
"The extent of the damage is still being assessed and will not become fully clear until both the cars and equipment have returned to the factory," Gillan said.
"What is clear is that our garage IT equipment and infrastructure have been badly damaged."
McLaren have offered Williams any help in terms of equipment they might need to ensure they are able to race in Monaco on 27 May.