F1 head protection 'inevitable'

By Andrew Benson
Chief F1 writer
Last updated on .From the section Formula 1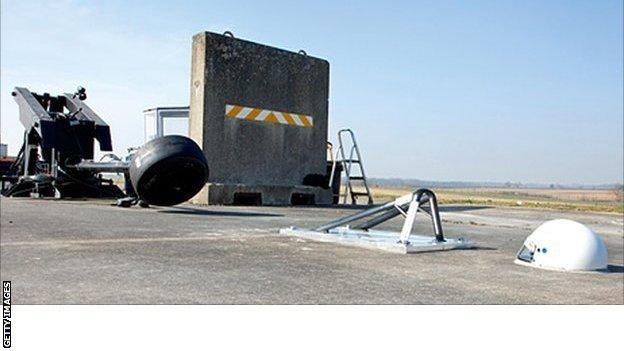 Formula 1 will introduce some form of additional driver head protection in the not-too-distant future, race director Charlie Whiting says.
Governing body the FIA is conducting research on methods of head protection and Whiting believes F1 must adopt one.
"There has to be something to try to prevent a wheel hitting a driver's head," Whiting told BBC Sport.
He added that roll-over protection in front of the driver "is the most likely option in my opinion".
But he emphasised that "the research should be done first, so we are able to come up with something that works".
Researchers at the FIA Institute have so far tried two types of jet canopy and a forward roll-hoop.
The roll-hoop, made of titanium, was the most effective. It deflected the wheel, as well as puncturing the tyre, which makes it stop much more quickly than if it stays inflated.
The jet-style canopies were both flawed to varying degrees.
A 30mm polycarbonate windshield deflected the wheel but shattered, while a canopy from a jet fighter worked effectively but would cause other problems, including distorted vision.
Whiting said: "The canopy has potential problems, particularly in that there were very likely to be visibility issues as it may create a distorted image for the driver.
"There are also the issues of weight, driver egress and driver extraction."
F1 cars already include wheel tethers, which have drastically reduced the likelihood of wheels becoming detached from cars in the event of an accident, but they are unlikely ever to be foolproof.
"We have done our best to stop a wheel coming off and we are constantly working hard to come up with better ways of making sure wheels stay attached to cars," Whiting said.
Another concern is a similar type of accident to that which left Ferrari's Felipe Massa with a fractured skull and a brain injury when he was hit by an errant suspension part at the 2009 Hungarian Grand Prix.
A roll-hoop in front of the driver would not totally defend against that, but would offer partial protection.
A week before Massa's accident, Formula Two driver Henry Surtees, the son of 1964 F1 world champion John Surtees, was killed when a wheel hit his head.
There has been opposition to the idea of additional head protection, especially if it takes the form of a canopy, on the basis that F1 has always been for open-top cars.
But former grand prix driver Alexander Wurz, who is working closely with the FIA and F1 drivers on the subject, said that was an outdated argument.
Wurz said: "I've heard comments of 'it's against tradition'. Should we all drive with engines at the front and with leather hats and no seatbelts and parts not in quality control?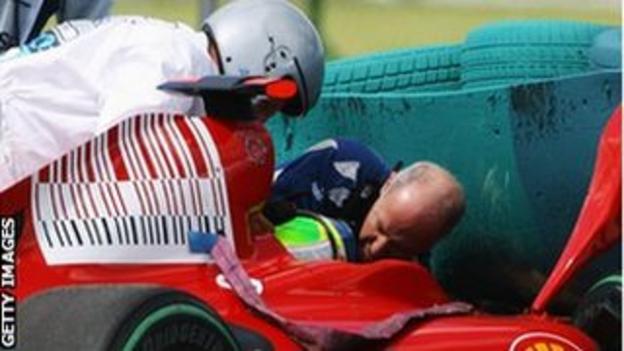 "We must do everything we can to protect the sport and its business model.
"You see how (in) our society, corporate social responsibility is moving nowadays, it's becoming so important. I just simply don't accept stopping looking into safer solutions just because they break tradition.
"If you are travelling at speed and pushing things to the limit, there will always be a risk, it's just I am against the categorical phrase 'It will never happen - my car will never have a roof.'
"That doesn't mean the canopy or forward roll-hoops which are coming and potentially around the corner needs to happen.
"But we can't stop the research because you learn so much from focusing on one area, like protecting the driver's head.
"Maybe we (will) learn something along the way which is a very simple solution."
Wurz said that adding some form of head protection, whether it be a canopy, roof or forward roll-hoop of one kind, would have no effect whatsoever on F1's position as the pinnacle of motorsport or on the challenge of driving the cars.