Maldonado aiming for Monaco win

By Andrew Benson
Chief F1 writer
Last updated on .From the section Formula 1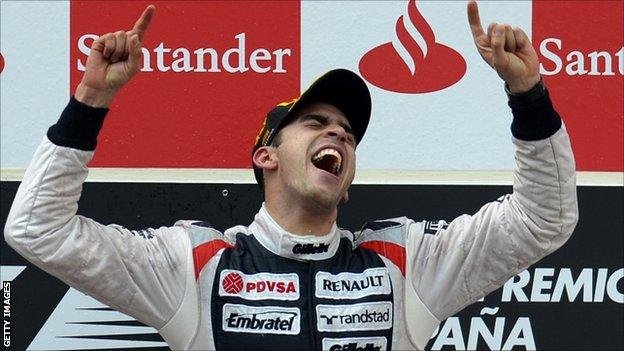 Spanish GP winner Pastor Maldonado sees no reason why he cannot continue his good form in Monaco next weekend.
"All the teams and the championship are so close, but we are getting better and better every time," he said.
"We don't have the quickest car but we are doing our best. Why not [win Monaco]? F1 is changing all the time. It's going to be difficult but we will try again."
The victory, which he delivered following a close fight with Ferrari's Fernando Alonso, has changed perceptions of Maldonado within F1.
He won his drive at Williams partly thanks to a huge sponsorship deal with Venezuela's state oil company, but team principal Sir Frank Williams has been effusive in his praise of the 27-year-old's driving.
For his part, Maldonado said he was not planning to use his improved image to look for a drive at a bigger team.
"I think I will stay in the team for a long [time]," he said.
"We need to be winning, we need a mission, we need to build a championship and after I will see for my future."
Maldonado's win was the first for his Williams team since 2004 and on a visit to the factory on Thursday he said it had been a huge boost to the team.
"Everyone is very happy to see me," he said. "We did a small conference this morning, we were all together, talking with the people of the factory and I am happy to see their happy faces.
"For sure it is a great moment to be back at the factory because we have been working so hard to find this result."
The team entered 2012 after the worst season in their history, but a change in approach in the design and engineering departments has led to a major turnaround in form.
"We did a great step forward because we changed a lot of things here in the factory, and part of that approach when we get to the track is completely different," Maldonado said.
"I feel a bit more motivated in the team. A lot of things we are putting together in the team to make a real step forward.
"It is not a single part we have changed, we have changed everything. I am really happy to be part of that and to keep pushing."
Some of the shine was taken off the win by a fire that erupted in the Williams pit as they were celebrating after the race.
Four of their mechanics were taken to hospital - and one is still receiving treatment for burns suffered in the incident.
Maldonado said he had sent a text message wishing the injured man a speedy recovery.
"I'm looking forward to seeing him back in the team again," he said.
Maldonado was pictured carrying his cousin out of the garage in the immediate aftermath of the fire, and he admitted it had been a worrying time for the team.
"We had a difficult moment after the race especially we were all together in the garage at that moment," he said.
"I was so scared for all of us, but we were so lucky because we don't have any big damage and especially because our people were OK after that.
"For sure it was a scary moment for all of us.
"I saw my cousin with a small injury and I take him away from the [pit].
"What I can say is it was a difficult moment for all the team but we have been so happy after that because of the win.
"It was nearly eight years - a great day."