Michael Schumacher says risk of racing at Monaco is "justifiable"

By Andrew Benson
Chief F1 writer
Last updated on .From the section Formula 1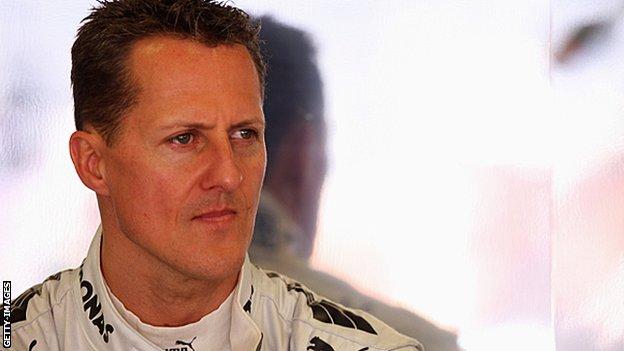 Michael Schumacher believes the risk of racing at the Monaco Grand Prix is "justifiable once a year".
Although very few serious accidents have happened there, the street circuit does not conform to F1's usual safety requirements.
"For so many years we have successfully campaigned for more track safety and then we race in Monaco," he said.
"But in my view this is justifiable once a year - especially as the circuit is so much fun to drive."
The Mercedes driver, who has won five times in Monaco, added: "Every time you go there, you just look forward to finally getting out and driving the track."
Despite the tight confines of the circuit around the streets of the Mediterranean principality, safety is taken as seriously there as at every track, with improvements made on a regular basis.
In recent years, impact-absorbing barriers have been adopted at many points along the track.
The walls that used to define the edges of the track at the 150mph swimming pool chicane have been moved back and the corner before the penultimate Rascasse hairpin has been eased.
Sauber's Sergio Perez suffered concussion in an accident at the Nouvelle chicane last year, where safety barriers have been made more effective since similar accidents to Jenson Button in 2003 and Karl Wendlinger in 1994.
No driver has been killed at the Monaco Grand Prix since Ferrari's Lorenzo Bandini died in a fire in 1967.
Schumacher will be demoted five places on the grid in Monaco this year after being found guilty of causing his collision with Williams driver Bruno Senna during Sunday's Spanish Grand Prix.
However, he remains confident of a strong race next weekend.
"Of course, knowing that I will lose five positions on the grid does not add to this feeling (of enjoying Monaco) but this just means that I will have to try even harder," he said.
"I'm actually quite confident we should look reasonably good in Monaco due to the hard work that everybody in the team is putting into the development of our car, let's make the best out of the weekend."
Schumacher's team-mate Nico Rosberg, who like many F1 drivers lives in Monaco, said: "I love the Monaco Grand Prix weekend and it's a great feeling to be
driving at home, knowing that all my friends and family are watching.
"I have always been quick around the streets there, and I believe a good result is possible for us next weekend.
"The nature of the track should suit our car but, as we have seen at every race so far this season, tyre management will be crucial.
"With five different winning teams so far this year, at least ten drivers have the chance to win in Monaco so this could be one of the most interesting races there for years."
Team boss Ross Brawn added: "The uniqueness of Monaco makes it one of those tracks where anything can happen, particularly in a season that has proved to be almost impossible to predict so far.
"Despite the logistical challenges of the weekend, Monaco is a race that everyone on the team and the drivers really enjoy, and the experience of winning in Monaco is something very special indeed.
"After Nico's win in China, we have had two more difficult race weekends, but I am confident that we will start to see an improvement in Monaco as the developments we have brought to the car recently take effect."