Lewis Hamilton aiming for consistency at Monaco Grand Prix

By Andrew Benson
Chief F1 writer
Last updated on .From the section Formula 1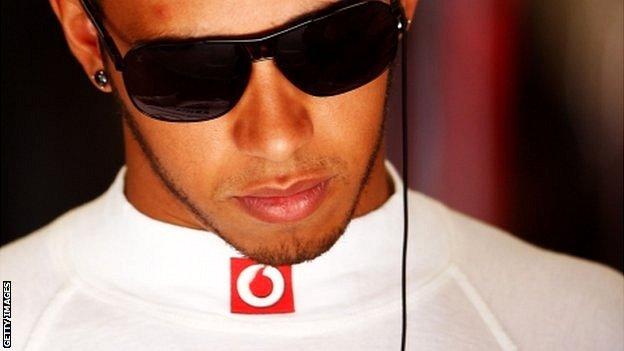 Lewis Hamilton says his determination to score consistently this year is paying off and he will not abandon the approach in Monaco this weekend.
Monaco is one of two races the McLaren driver most wants to win, alongside the British GP, but he says regular points scoring is the best way to the title.
"I've scored points at every race and I'm only eight points off the lead of the championship," Hamilton said.
"That's really encouraging. It's reassuring to see my approach pay off."
Hamilton's title hopes last year were severely compromised by a number of incidents that cost him significant amounts of points.
The 27-year-old has not yet won a race this season, despite scoring three pole positions in five races - one of which, in Spain last time out, he lost after being disqualified for a technical infringement in qualifying.
But he is third in the championship, behind Red Bull's Sebastian Vettel and Ferrari's Fernando Alonso, who are tied on points at the top of the table.
The German is classified ahead on results countback.
Although this season has been characterised by wild swings in form and unpredictable results, both Vettel and Alonso have - like Hamilton - scored consistently.
Hamilton said: "It's important not to lose sight of the fact that, despite pushing for the win, consistency and scoring decent points is currently the most sensible way to tackle this world championship."
He last won in Monaco in 2008 and although he is determined to finish the race on Sunday, he says he would also dearly love to win it.
"Monaco is a very special circuit," Hamilton added.
"It's up there with Silverstone as the place where I most want to do well at.
"Even though Monaco has the slowest average speed of all the circuits we visit in a season, it always feels incredibly quick.
"That's because the acceleration is so rapid and the walls so close: there really is no room for error.
"Apart from the run-off at Ste Devote, and the tiny escape roads at Mirabeau and the harbour chicane, there's no room to make a mistake.
"But when the stakes are at their highest, I just find it more exciting."
Hamilton's McLaren team-mate Jenson Button finished a close third in Monaco last year, nose-to-tail with winner Vettel and runner-up Alonso.
And he is keen to make amends this year for a race he felt he should have won last season.
"My win at Monaco in 2009 remains one of my favourite victories in Formula 1," Button said.
"Monte Carlo is a place where every driver wants to win, but achieving it is so satisfying because you know you've conquered one of the toughest circuits in motorsport.
"I remember last year having a fantastic car beneath me and feeling really confident that I could challenge for the win.
"As it happened, circumstances beyond our control worked to pull that opportunity away from us, but I go back to Monte Carlo with a little bit of unfinished business."
"I'd love to win for McLaren, the team has a great history around Monaco and I'd love to add my name to McLaren's Monaco winners' list."
"This year, we'll be running Pirelli's 'super-soft' compound for the first time - which should be interesting."
"And while our car isn't especially suited to the tighter confines of a track like Monaco, I'm optimistic of getting on top of the balance issues that have affected me for the past two races. It's going to be a fantastic weekend."