Ferrari president urges team to go on and win the world title

By Andrew Benson
Chief F1 writer
Last updated on .From the section Formula 1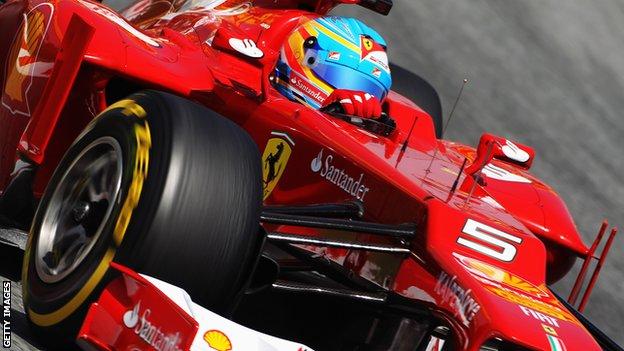 Ferrari's president has urged his team to make the most of their unexpected chance to win the world title.
Ferrari have had an uncompetitive car, but Fernando Alonso's consistent scoring has led to the Spaniard sharing the points lead with Red Bull's Sebastian Vettel.
President Luca Di Montezemolo said: "We must take advantage by trying to bring the best out of each one of us."
He added: "Winning the championship depends solely and exclusively on us."
Alonso is classified second in the championship to Vettel on results count-back, but it is not a situation Ferrari expected at the start of the season.
They had a troubled pre-season and started the year with a car that was a second off the pace.
Despite that, Alonso won in wet/dry conditions in Malaysia and scored consistently elsewhere to be within 10 points of the championship lead after four races.
Improvements to the car for the last race in Spain led to him qualifying and finishing second.
Montezemolo's letter said: "The championship is wide open, so far no-one has dominated."
"A series of circumstances and the work done so far to improve the car, in addition to Alonso's great ability have led to us, after five races, leading the world championship."
"We must take advantage by trying to bring the best out of each one of us, at home and on the track, including [Felipe] Massa, who must achieve the results we expect of him."
"I know from [team boss Stefano] Domenicali, with whom I am in constant contact, how strong is the commitment of each one of you."
"Of this, I am also sure - winning the world championship depends solely and exclusively on us, on our capabilities, our creativity, our working methods, our determination and our desire to show that we are the best."
Aside from emphasising what is at stake to the entire Ferrari team, Di Montezemolo's words also further increase the pressure on Massa, who has had a disappointing season.
After the Spanish race, the team issued a statement saying they expected "a change of gear starting right away" from the Brazilian.
Ferrari technical director Pat Fry said he was pleased with the progress the team had made, but added that they would need to continue to work flat out all season.
"It was a good effort all around to get the parts delivered to Barcelona and I think most of them worked as expected," Fry said in a video on Ferrari's website.
"There were a few things we are still looking at now trying to understand if they are working to the right level, but all the bits added performance - some just a little bit less than we were expecting."
"So, all in all, everyone was reasonably happy with the updates we made. But obviously we still have a long way to go. We just have to keep working at a similar rate."
He said there were "a few more small updates" for this weekend's Monaco Grand Prix.
He added: "It is going to be a constant drive for updating, like everyone does these days."
"We have a different rear wing and front wing package for [the race after Monaco in] Canada, which is a slightly different downforce level."
"And then we are still working on the exhaust system. There will be versions of that we will test. We learned a lot at the start of the year in understanding the problems we had from that, and we had another go at Mugello [in a test before the Spanish race]."
"We have a good understanding, but the performance... we are just trying to put it on the car as quickly as we can. It will be a constant drive all the way through to the last race."