Williams change pit procedure after Spanish Grand Prix fire

By Andrew Benson
Chief F1 writer in Monte Carlo
Last updated on .From the section Formula 1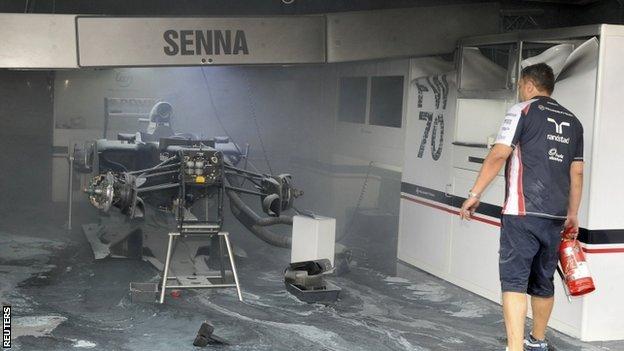 Williams have changed their pit procedures in an attempt to ensure there is no repeat of the fire they suffered at the Spanish Grand Prix.
"It's rare but we have to take on board it happened and learn from it," said Williams chief engineer Mark Gillan.
"The procedures we've changed, we've notified the other teams as well."
Gillan said the exact cause of the fire was still not known, but that it happened as fuel was being handled at the back of the pit garage.
Williams are in talks with governing body the FIA and the other teams about the incident.
"We shouldn't make a knee-jerk reaction," Gillan said. "But there are ongoing discussions about how to improve things. And the main thing we must learn from this is ideally to ensure that it doesn't happen again, but if it does to ensure we are better prepared."
Any new procedures will include a strengthening of fire-safety provisions at circuits, after the response of local fire crews was criticised in the wake of the Williams incident.
"There will definitely be a change to circuit procedures," Gillan added. "But we have all agreed a certain level of cover at a circuit and that level of cover was in place.
"Collectively we need to look at the level of cover, both the fire and the medical support, and undoubtedly things will change as a result of this."
Gillan reiterated Williams's gratitude for the help and support they received from their rival teams.
"About 90% of the garage infrastructure and pretty much everything IT-related [was destroyed] - all the radios, all the intercom equipment, all the rack equipment," he said.
"And on [Bruno Senna's] car we lost pretty much every metallic component, due to corrosion. The fire took a heavy toll."
But he added that not only had every single team been involved in putting out the fire, but they had all offered help and assistance to ensure Williams could compete effectively in Monaco this weekend.
"We are certainly fully operational," he said. "There are certainly things we don't have, such as an abundance of radios and so on. But it doesn't stop us operationally.
"We have borrowed some equipment from other teams as well. So not only did they come to help with the fire and that side but have come good on their promises of offers of support and with certain teams we have taken them up."
The support they had accepted was "mostly IT-related, things like hard-disc storage".
After their win in Spain they are again expected to feature strongly this weekend in Monaco, where Maldonado has a good record.
"It was disappointing not to be able to enjoy the win so much last Sunday," Gillan said. "But we come here on the back of a great result and we are really looking forward to this weekend."