Paul Di Resta is huge asset, say Force India
Last updated on .From the section Formula 1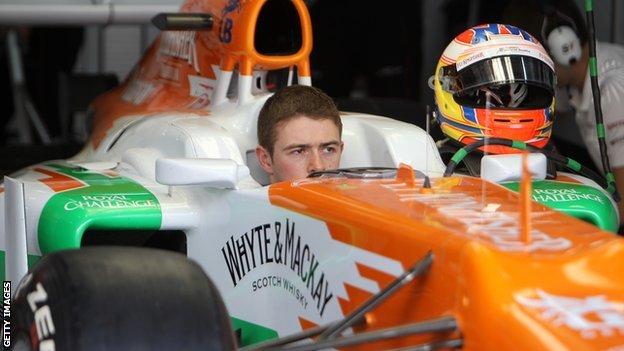 Force India expect Paul Di Resta to stay with them next season but would be understanding if he wanted to move on.
The Scot has been linked with Merecedes and Ferrari but Force India team owner Vijay Mallya said: "Paul is a huge asset and a very valuable asset to us.
"We have secure contracts with both him and Nico Hulkenberg, and we have an excellent relationship with both.
"Should they ever think of going elsewhere, it will be something that we will work out very amicably."
Di Resta won the German touring car championship with Mercedes in 2010.
He has been touted as a possible replacement for Michael Schumacher should the 43-year-old seven-times champion decide to call it a day when his contract expires at the end of 2012.
And Sir Jackie Stewart recently tipped the 26-year-old as a candidate to take Felipe Massa's seat at Ferrari if they decide to drop the under performing Brazilian.
Mercedes supply Force India with engines and that team's chief executive Nick Fry said this week: "Paul is on our radar.
"He has done a fantastic job, he's a nice guy, he's a great team player and he would be one of the drivers undoubtedly that, if Michael were to decide he didn't want to continue, we would look at."
Di Resta is flattered by the speculation linking him with rival teams but insists he is concentrating on his job with Force India, where he is under contract for 2013.
Asked if the reports pleased him, he said: "Of course. You can't help it and, if it's true, I'm thankful.
"There's been good press, which is nice to hear and nice to see that people are watching and their eyes are open.
"It's no secret that I want to be in a car that is winning races and winning world championships.
"But I have a contract with Force India and that's where my driving duties are committed to at present."
The Scot has enjoyed mixed, albeit credible, results in the five races of the current campaign, the high point being a sixth-place finish in Bahrain.
"A podium would certainly make me happy and that's the way I look at it," said Di Resta ahead of this weekend's Monaco Grand Prix.
"I'm just trying to do my own performance, do my own driving.
"I'm not going to make decisions for anybody. Equally, above me in this team or any other team, it's for those people to make their mind up.
"I just have to try to open their eyes by making sure I do a good job, irrespective of what I'm doing in Formula 1 and trying to achieve.
"I know I can't work any harder. We're only on race six and there's a lot of work to be done within this team.
"So I'm concentrating on my job to maximise what I can achieve."