Michael Schumacher's results must improve for Mercedes - Brawn

By Andrew Benson
Chief F1 writer in Monaco
Last updated on .From the section Formula 1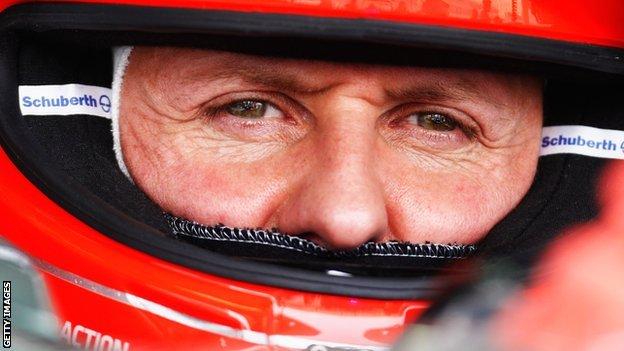 Michael Schumacher's performance with Mercedes in the first five races of the season has been "not good enough", team boss Ross Brawn says.
"We - and that includes Michael - have not done a good enough job collectively in the first five races," Brawn said.
"We look at things collectively, that's the situation with Michael. It's not the driver or team has made a mistake."
Schumacher's team-mate Nico Rosberg is seventh in the championship on 41 points, including a win at the Chinese Grand Prix.
Schumacher's two points come from two 10th-place finishes - one in Malaysia and one in Bahrain.
Brawn added: "The issue of Michael scoring only two points is not just down to Michael. It's down to some of the technical problems we've had with the car."
The 43-year-old outqualified Rosberg in the first two races of the season in Australia and Malaysia, but not in the subsequent three races in China, Bahrain and Spain.
Schumacher has retired from the three other races.
He dropped out with a hydraulics failure in Australia while running third and from China when a wheel was incorrectly fitted at a pit stop after he had been second to Rosberg in the early laps.
He then crashed into the back of Williams's Bruno Senna in Spain two weeks ago, an incident for which he has been given a five-place grid penalty in Monaco this weekend.
Schumacher's contract runs out at the end of this year, and he said in Monaco on Wednesday that he and the team were "not focusing yet" on his future.
Brawn's comments were made on Thursday at the Monaco Grand Prix.
The previous day he had said: "Michael has actually been very good this year. We have not achieved the results we wanted to but if you look under the surface, he has been pretty good this year.
"We need a few more things to fall in place, and then I think we can still have a lot of fun with Michael.
"I think, rather like there has been a lot of attention on his incident in Spain, there will be massive attention if he does succeed and does well - which I am looking forward to."
He added: "Michael likes a challenge and that is what F1 is about. He does dig pretty deep when things are not perhaps going as well as they might.
"Collectively we have not achieved the results that perhaps we could have achieved this year, but what we see is the core performance [which is] is very good.
"So if we get everything aligned we can start to get some good results - and that is typical of Michael."
Last week, Mercedes chief executive officer Nick Fry said: "I am sure if we get to the end of this year and it continues as it has done for the last few races, I think he will probably be asking himself that question [about whether to continue].
"There is time to go and we are not making any decisions yet."