Monaco GP: Michael Schumacher wants win despite penalty

By Andrew Benson
Chief F1 writer in Monaco
Last updated on .From the section Formula 1
Michael Schumacher says he is still aiming for victory in Monaco by a grid penalty.
The German legend but has a five-place grid penalty for causing a collision at the last race in Spain.
"I will do as good as I can, it is likely to be a one-stop strategy so there is not much you can play with," Schumacher said.
"Overtaking is tough, but we will try."
Schumacher has come in following his collision with Williams driver Bruno Senna at the Spanish Grand Prix.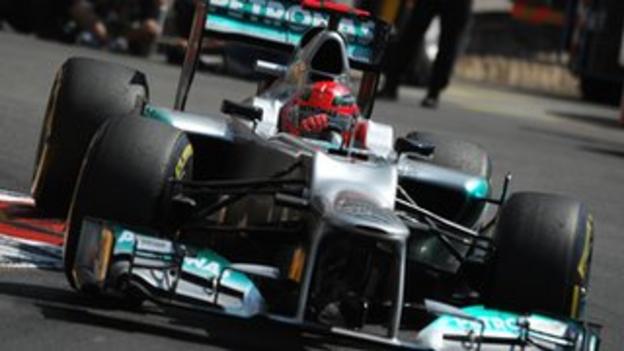 Mercedes chief executive officer Nick Fry said the 43-year-old would have to consider whether he wanted to stay into a new contract in 2013 if his results did not improve.
And here in Monaco team boss Ross Brawn said: "We - and that includes Michael - have not done a good enough job collectively in the first five races [of the season]."
But although Schumacher has scored only two points so far this year, his underlying pace has improved, continuing a trend that started in the second half of last season after he struggled through the first 18 months of his comeback following three years in retirement.
Schumacher, whose contract with Mercedes expires at the end of this season, said he was "grateful for all the trust Mercedes had in me".
He said: "I am obviously excited, very happy. It confirms what I have felt for a long time, but sometimes you have to put everything together in the right moment.
"It's the first pole of this second part of my career, so it is the best one because it is the first one.
"It is sweet and a good feeling after you come back and have hoped for better results in all circumstances.
"But you know why and what has happened and finally being able to prove it. I'm certainly delighted."
Schumacher said the fact that the best moment of his comeback had happened in Monaco, where he has won five times, made it all the more special.
"Monaco being so special, we call it a little bit more of a driver track than some other tracks we run in the year, but particularly because of the prestigious atmosphere and what it means it is super fantastic if you do a good lap.
"We saw how tight qualifying has been and I just managed to get it perfectly well together.
"That is the nature of F1. It is not always possible to get everything perfectly well together. Reminding [people] I'm still around, yep, that's a good point."
A win in the race on Sunday would draw him level with Ayrton Senna's all-time record of six victories in Monaco.