Lewis Hamilton favourite for title - Fernando Alonso

By Andrew Benson
Chief F1 writer in Monaco
Last updated on .From the section Formula 1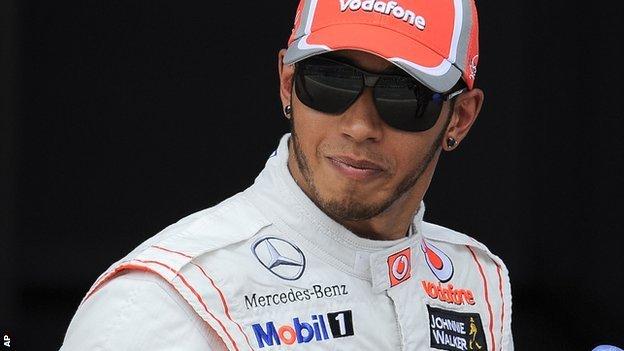 Ferrari's Fernando Alonso believes Lewis Hamilton is the favourite to win the world championship this year.
The Spaniard said he is already looking towards the end of the season and that he expects the McLaren driver to be the one he needs to beat.
"In Monaco, traditionally, the first three drivers on the grid have a chance of winning," Alonso said.
"But we are looking further ahead. We are looking to November and it is Hamilton we want to be close to."
Alonso will start fifth in Monaco on Sunday, two places behind Hamilton.
Both have been promoted one place from their qualifying position because Michael Schumacher, who took pole for Mercedes, has a five-place grid penalty.
Alonso heads into the race tied on points at the head of the championship with Red Bull's Sebastian Vettel, with Hamilton in third place eight points behind.
Hamilton said: "It is always a pleasure to have my former team-mate, a two-time world champion, who is regarded as one of the best drivers if not the best driver here, saying positive things about me.
"I feel very, very similar - once he has the car, which he has done in some of the races, he will be extremely quick and very difficult to beat.
"I'm sure Ferrari being the competitive team they are - and with the experience they have - will be very strong throughout the year. I think they are going to be competitive for the rest of the year."
The first five races of this season have been won by five different drivers - Hamilton's McLaren team-mate Jenson Button, Alonso, Mercedes' Nico Rosberg, Vettel and Williams's Pastor Maldonado.
Earlier in the Monaco weekend, Alonso had said of Hamilton: "It is impossible to predict how the season will evolve, but I would hardly believe it will stay like this.
"Still, if I can tip one driver, I would pick him because he's the only one who can make a difference even with a car that is not a winner."
Hamilton is behind Red Bull's Mark Webber and Rosberg on the grid in Monaco and is hopeful he can challenge for his first victory of the season.
"I've got a good feeling about the weekend but I've got two great drivers in front of me who will make it as hard as possible for me to get by and beat [them] but we will do what we can."
Button said his car lost performance between final practice and qualifying and that he did not know why.
"I don't have the pace," he said. "That's it really. This morning the car felt good, and the pace was pretty strong, but we didn't have it this afternoon when it counted. Monaco is all about qualifying."
Both McLaren drivers have written letters to an English fan, Lawrence Welks, who was injured when the grandstand he was sitting in on Thursday at the Tabac corner gave way. Welks, who is 47, has a broken back and leg.
Button said: "We both wrote him a letter saying the obvious really: get well soon, sorry to hear about the incident and thank you for your support because he's a massive fan of the team and us two.
"It's a very difficult time for him because he came here to watch F1 and he's not seen anything. He's been in hospital."
Hamilton added: "We wouldn't be here without our fans and we're very grateful for all the support we get, it was the least we could do. We hope he has a speedy recovery."