Mark Webber believes race wins are key to claiming F1 title

By Andrew Benson
Chief F1 writer in Monaco
Last updated on .From the section Formula 1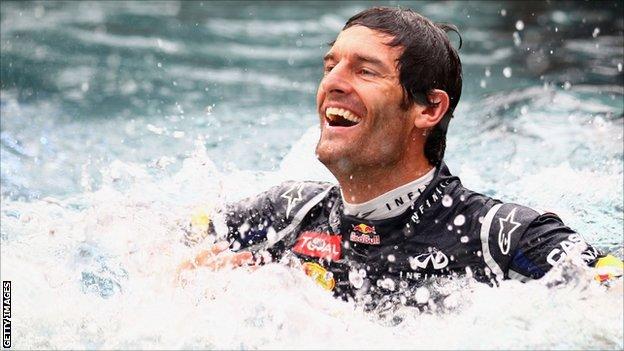 Mark Webber believes race wins will ultimately be key to winning the world title this year and that consistent points finishes will not be enough.
The Red Bull driver won the Monaco Grand Prix to become the sixth different driver to win in the first six races of the year.
Webber is now tied on points with team-mate Sebastian Vettel, three behind leader Fernando Alonso of Ferrari.
"Consistency is nice, but wins are what win championships," Webber said.
"You need to win. We need to be scoring all the time and then when days like this come along, you cannot let them go - at all. You have to grab them with both hands."
Webber is classified third behind Vettel on results count-back - the German's best result other than a win is a second place, while the Australian's is a third.
Vettel, who was tied on points with Alonso going into Monaco, finished fourth, one place behind the Spaniard.
Vettel's different strategy, which involved starting on the harder tyre while those at the front of the grid were on the softer tyre and then running longer, brought him into contention for the win, but his tyres then began to go off and he rejoined after his pit stop in fourth place.
Formula 1 history has numerous occasions when two drivers competing for the title in one team lost out to a driver who was his team's only contender.
But Red Bull team boss Christian Horner said that he would continue to allow Webber and Vettel to race.
Horner said: "Our guys haven't been taking points off each other. They were first and fourth today.
"They're free to race. Fernando has driven very well. He's going to be a key factor all the way through this championship for sure."
Horner added that everyone down to McLaren's Jenson Button in seventh place in the championship should be considered a contender - which is a list also including Button's team-mate Lewis Hamilton, Mercedes driver Nico Rosberg and Lotus's Kimi Raikkonen.
"It's immensely tight," Horner said. "You've got Fernando three points ahead of our two drivers, it's so open at the moment, you have six or seven drivers all in serious contention."
And he warned that McLaren were still serious opposition despite their drop-off in form in recent races.
"Form has see-sawed," Horner said. "Pastor Maldonado [of Williams] lapped us [when he won in Spain] two weeks ago, so it would be foolish to discount a team of the quality of McLaren or Ferrari."
Alonso is leading the championship despite not having the fastest car at any race so far this season.
Ferrari team boss Stefano Domenciali said: "It is a championship that is really difficult to understand in terms of the complexity of the situation.
"In terms of the performance of the car we had a very difficult start [to the season]. We have seen other cars have done pole and we have not.
"Everyone is working every race to keep putting performance on the car.
"At the same time I am happy we are leading. We need to make sure we don't lose points, because if you do they are very heavy and there are so many drivers fighting that you have to be always there and then the count will be done at the end."
Alonso, who climbed from fifth on the grid to the final podium spot in Monaco, said: "I am happy for the direction, the momentum we seem to get from the Mugello test [before the Spanish Grand Prix].
"We have some updates on the car and everything seems to work [now, which it did] not from the start of the championship [when] some of the updates were negative.
"We understand we need to improve. We are not the fastest, but I am happy with the direction.
"Everything we put on the car seems positive; the next couple of weeks are important."