Michael Schumacher should stay at Mercedes - Ross Brawn

By Andrew Benson
Chief F1 writer in Monaco
Last updated on .From the section Formula 1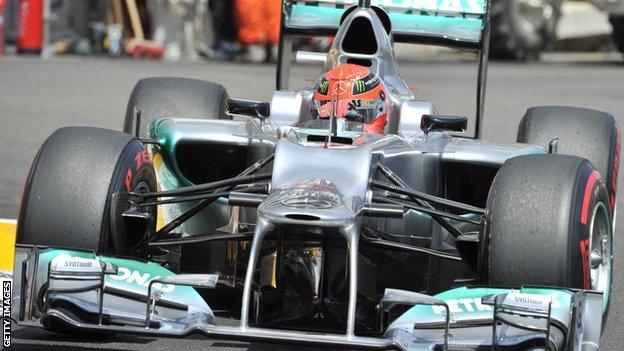 Mercedes team boss Ross Brawn says he would like Michael Schumacher to stay on as long as he is competitive.
The German legend before a was applied.
Schumacher's contract runs out this year, and asked if he wanted him to stay on, Brawn said: "I think it would be everyone's wish.
"We always said Michael himself will know when it's time to retire and after a performance like that why should he?"
with a fuel-pressure problem after running seventh - he lost ground at the start following a collision with Lotus driver Romain Grosjean.
But his qualifying performance was arguably his most convincing since he made a return to Formula 1 in 2010 after three years in retirement.
"It's great for the team and I think it's great for F1 as well," Brawn said. "Let's hope he continues on as long as he can do what he did today."
Schumacher, 43, would not be drawn on his plans for his future.
He said: "You imagine that just because of one result I've done at this moment I'm suddenly restarting or opening a different subject. No, that's not the case.
"I'm focused on what I'm doing right now. There will come a time when I will make summary of everything and then I will sit down with the team to see what we're going to do."
In the run up to Monaco, there had been some suggestions that the team felt Schumacher needed to up his game.
Mercedes chief executive officer Nick Fry had said: "I am sure if we get to the end of this year and it continues as it has done for the last few races, I think he will probably be asking himself that question [about whether to continue].
"There is time to go and we are not making any decisions yet."
But in Monaco Mercedes vice-president of motorsport Norbert Haug said the seven-time champion had never let his poor results affect him.
"Michael handled it quite well all the time," Haug said.
"I never got the impression he was frustrated or down. He knows what he can do, and he thinks if the car is right he can deliver.
"Ross and I and the whole team were always convinced he was a good driver and could do it. That he needed to learn after such a long time was very clear but he shows commitment and his talent was there."
Schumacher struggled through the first 18 months of his comeback, but in the second half of 2011 there were signs that he was recovering some form.
He continued to struggle to match team-mate Nico Rosberg in qualifying - the score was 15-4 in the younger man's favour last season - but he produced some strong performances in races.
This year, the qualifying score is three-all, and the two have generally been closely matched on pace, although Schumacher has suffered three retirements, only one of which was driver error.
The exception was the Chinese Grand Prix, when Rosberg beat Schumacher to pole position by more than half a second. The pace differential continued as Rosberg romped to his maiden victory and Schumacher retired with a loose wheel.