Mark Webber column: Winning in Monaco is always special

By Mark Webber
Red Bull driver
Last updated on .From the section Formula 1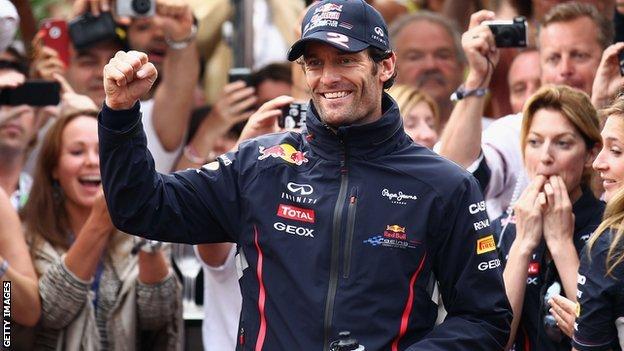 They're handing out grand prix victories a bit more sporadically this year than has been the case recently, but there is no doubt I've grabbed the right one so far.
When you drive at the limit in Monaco, the margin is so fine. It's about having the confidence to go to that limit and backing yourself that you are not close to a mistake at any point.
You try to ignore the barriers to a large degree and just treat them like white lines that you can go up to but no further.
Another big skill there is staying on top of the changes in the track - which happen every two or three laps.
It was a very well-executed weekend by the whole Red Bull Racing team.
You need to be confident and committed around there. It's a very long afternoon if you're staring at gearboxes in Monaco and that's good motivation on Saturday to get as far up as you can.
They don't hand grid positions out for free. You've got to deliver on Saturday afternoon and it went well for us. I think we got the best out of the package.
Obviously Michael Schumacher beat us to fastest time but we took up the pole because of his penalty and he retired from the grand prix itself anyway.
Monaco is not always the most spectacular race to watch, but it's a real test for us guys.
The race is very repetitive, there is no respite and you have to be very careful not to get complacent with that. There's a lot of concentration required.
The race was about control - pacing yourself to eke out the tyres a lot of the way.
It would have been nice to have a slightly bigger lead and I could have pulled out a bit, but you're worried about overworking the tyres.
That meant I had Nico Rosberg's Mercedes and Fernando Alonso's Ferrari right behind me when it started to rain in the last few laps.
The leader always has to be a bit more cautious in that situation because you're the one who can look like an idiot. You arrive first and the guys behind can learn off you.
What made the race more difficult was that there was a huge amount of marbles - bits of discarded rubber from the tyres that are incredibly slippery.
That meant the line through Casino Square changed very early in the race - and I wasn't happy with that because I like to use a slightly different line. That's the sort of thing you have to cope with.
DISMISSING SPECULATION
I heard afterwards people had been speculating that I was 'backing up' Nico, Fernando and McLaren's Lewis Hamilton, who was also behind me, to help my team-mate Sebastian Vettel gain places (backing or holding up other drivers might be done so they come in range of someone behind them - or in this case, in front, so he or a team-mate get an advantage when they pit).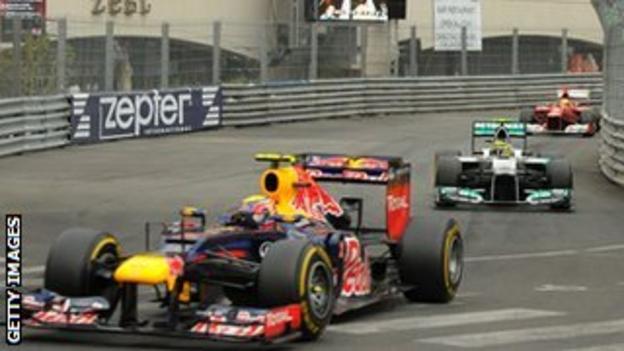 That is absolute rubbish. You just cannot be that fancy around Monaco.
Ultimately, Seb ran out of tyres and he had to pit because the rest of us started to go quicker, but if they'd kept going he would have been pushing for the win.
If we had been trying anything on, I could have been even cuter. I cleared Seb by quite a lot. If I'd wanted to slide him in among other people, I could have slowed down and it would have been even better for the team.
But it just wasn't part of the plan.
The problem with trying to do that would be that you're exposing yourself to even more pressure from the guys behind - Nico and Fernando in this case. And then the boys in the pits might mess up Seb's stop and it would all be for nothing.
You always get bitten on the bum when you get fancy. So you just don't try.
THE MONACO WEEKEND
I love driving at Monaco but the rest of it, well, I can absolutely take it or leave it. It's extremely pretentious and really not my cup of tea.
But as a venue, as an amphitheatre and a setting, it's incredible and that's why you get a lot of big names going there.
One of the best things about it for me is that I get to meet a lot of people I looked up to in my younger days.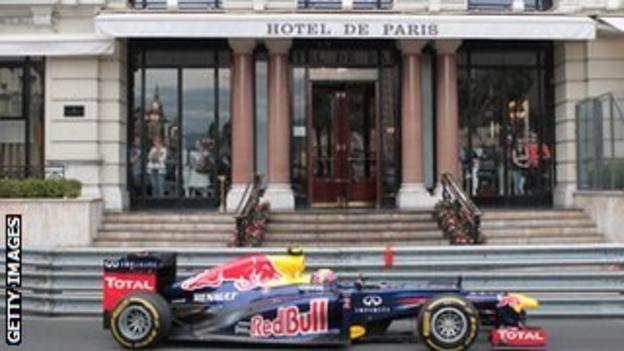 The five-time MotoGP champion Mick Doohan and four-time F1 champion Alain Prost, both of whom I know, were there and this year I got to meet Juha Kankkunen for the first time.
Juha was an absolute legend in rallying in the 1980s and 1990s and he's still in amazing shape. Those guys really get F1 and it was great taking to him about some of the rallies I'd seen him do in Australia and in Finland.
I also have to mention Dario Franchitti's win in the Indy 500 - the third of his career. It was an incredible race and it's great to see Dario win it. He's a good bloke.
I've got some other mates in that race, too, and it's lovely that Dario dedicated the win to Dan Wheldon, who was killed in that awful crash in Las Vegas last year.
RACE WITH ME AT SILVERSTONE
Red Bull are backing a spinal-injury research charity called Wings For Life, which I am an ambassador for, with a programme called Faces for Charity that will run at this year's British Grand Prix.
Red Bull got involved because the company's founder, Dietrich Mateschitz, is very good friends with a guy called Heinz Kinigadner, a Paris-Dakar motorcycle racer, whose brother and son were both paralysed in accidents.
As part of Faces For Charity, you can have your face on both mine and Sebastian's Red Bull cars for the whole British Grand Prix weekend, in return for a small donation.
If you want to race with me at Silverstone, the information is here.