Formula 1's greatest drivers. Number 14: Mika Hakkinen
By Andrew Benson
Chief F1 writer
Last updated on .From the section Formula 1
This year, BBC Sport is profiling 20 of the greatest Formula 1 drivers of all time. The BBC F1 team were asked to provide their own personal top 20s, which were combined to produce a BBC list. Veteran commentator Murray Walker provides his own reflections in a video of their career highlights, and chief F1 writer Andrew Benson profiles the driver. This week, number 14 - Mika Hakkinen
Michael Schumacher says his toughest rival in his first career was Mika Hakkinen, which is quite a compliment from a man who also raced against Ayrton Senna and Alain Prost and lost his final world championship battle to Fernando Alonso.
Schumacher's respect for the famously monosyllabic, but searingly quick, Finn was never better illustrated than after the 2000 Belgian Grand Prix.
Hakkinen won the race thanks to one of the most brilliant overtaking manoeuvres ever seen in Formula 1, passing Schumacher's Ferrari in a stunning display of bravery and audaciousness as they speared either side of a backmarker.
Just as revealing and important, though, was what happened a lap before at the same place.
This time the two men were on their own. Hakkinen was closing fast, and went for the inside, whereupon Schumacher did one of his notorious 'leans' - driving across at the McLaren and keeping going until his rival was left with the choice of backing off, or taking to the grass at 200mph.
Hakkinen backed off, but even so his front wing touched the rear wheel of Schumacher's Ferrari. He was not amused.
As the two men pulled up in parc ferme at the end of the race, Hakkinen got out of his car and walked straight over to Schumacher.
A different character would have ranted at the German, perhaps even tried to assault him, as Schumacher himself did to David Coulthard after they collided at the same race two years previously.
Instead, Hakkinen calmly went over the incident with Schumacher, using hand gestures. He has never revealed what he said, but the message was clear - that was out of order; don't ever try it with me again. Schumacher, stony-faced and chastened, merely nodded.
I was in the press conference after that race and was one of several people who tried to get Hakkinen to criticise Schumacher's behaviour. He wouldn't bite.
Which might explain why Schumacher said this to BBC Sport about Hakkinen last year: "Mika Hakkinen was the best opponent in terms of his quality, but the biggest admiration I had for him was we had 100% fight on track but a totally disciplined life off track. We respected each other highly and let each other live quietly."
The intensity of that incident at Spa was heightened by the fact that the two men were locked in a battle for the world championship.
Schumacher ultimately claimed the crown after another titanic battle with Hakkinen - this time at the Japanese Grand Prix at that other great drivers' circuit, Suzuka.
Flat out for the entire race, the two were on a totally different level from anyone else - as Senna and Prost had been in their own battles at the same track a decade before, and Schumacher and Alonso would be six years later.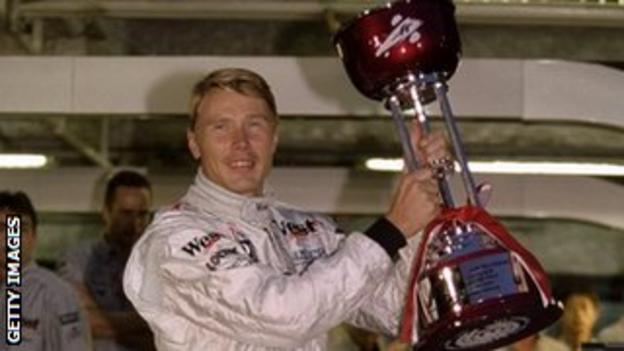 The careers of both Hakkinen and Schumacher began as the Senna/Prost era was coming to a close. Both made their debuts in 1991, but whereas Schumacher was quickly parachuted into a front-running car at Benetton, Hakkinen spent two years at faltering Lotus, before joining McLaren as test driver in 1993.
Sacrificing a race drive for a test seat seemed an odd move at the time, but McLaren boss Ron Dennis had promised Hakkinen a race at some point in 1993 and he was true to his word.
After a disappointing season, their second driver Michael Andretti was sacked with three races to go, and Hakkinen was given his McLaren debut at the Portuguese Grand Prix as team-mate to Senna. He shocked the sport - not to mention Senna himself - by out-qualifying the great Brazilian.
The race did not go quite as well, nor the final two races of the season, but Hakkinen's potential was plain to see. It took a while to come to fruition, though.
McLaren were entering a difficult period, with uncompetitive cars. The nadir was 1995, in the final race of which Hakkinen's F1 career came close to ending.
A deflating tyre pitched him off the track during qualifying for the Australian Grand Prix, the car was launched over the kerbs and Hakkinen was critically injured in the impact with the wall.
He suffered a fractured skull, internal bleeding and swallowed his tongue, and only an emergency tracheotomy at the side of the track saved his life.
Hakkinen recovered in time for the start of the 1996 season, and the incident solidified the already strong bond between Hakkinen and Dennis.
By the end of 1997, McLaren had a competitive car, and Dennis already knew that an even better one was in the pipeline for the following year.
Dennis did not want his best driver to go into the new season still without a win, so when Coulthard was leading Hakkinen in the closing stages of the final race of 1997, Dennis ordered the Scot to hand victory to his team-mate.
Coulthard was furious, although he kept his counsel, as he did when it happened again in the opening race of 1998, which McLaren did indeed start with a massive car advantage.
The victory set Hakkinen up for his first title, which he won despite a determined fightback from Schumacher and Ferrari.
Hakkinen won again in 1999, although both he and McLaren made hard work of it, a series of team and driver errors giving Schumacher's team-mate Eddie Irvine a chance of the title after Ferrari's number one broke his leg in a crash at the British Grand Prix.
Hakkinen very nearly made it three in a row in 2000, but losing that championship to Schumacher was the beginning of the end.
His wife Erja had given birth to a son and, although only 32, Hakkinen was beginning to weigh the risks of F1 more carefully.
A heavy crash following suspension failure in the opening race of 2001 convinced him the time was right to stop. At Dennis's insistence, Hakkinen's retirement at the end of the season was announced as a sabbatical, but there was to be no going back.
Hakkinen was a famously taciturn character out of the car, giving virtually nothing away to the media.
He would take a lengthy pause before questions, and then say virtually nothing of consequence, giving the impression of being a bit dim.
In fact, it was a construct devised by a man who was much more intelligent than he let on to ensure he had the minimum of distractions behind the wheel.
In the end, it didn't matter how little he said, Hakkinen was the ultimate exponent of letting your driving do the talking.
When he finally got into a competitive car, he took 20 wins and 26 pole positions from his final 67 grands prix. He was, it is clear, one of the fastest drivers F1 has ever seen.
Number 17 - Emerson Fittipaldi