Red Bull must change 'illegal' holes in cars' floors
Last updated on .From the section Formula 1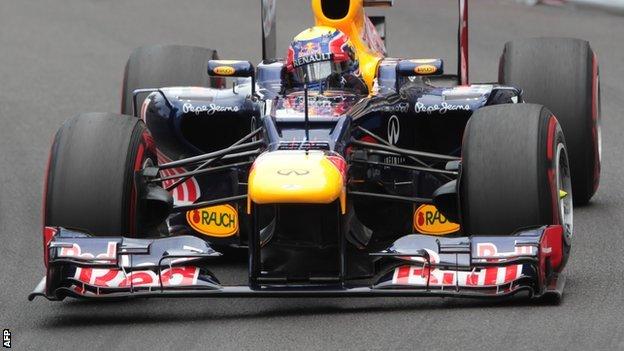 Red Bull must make changes for the Canadian Grand Prix after holes in their cars' floors were deemed illegal by the sport's governing body (FIA).
Team principal Christian Horner had been confident the holes were "fully compliant" with regulations and any aerodynamic advantage was permissible.
But FIA technical head Charlie Whiting sent all teams a directive on Friday.
The note confirmed that "fully enclosed holes may not be located" in that area of the car.
Before the decision, Horner had said: "There was a bit of a fuss after the Bahrain race, but it was clear the car complied. We sought clarification after that, but there is no doubt the car is fully compliant.
"The car is identical to that which ran in Barcelona and Malaysia as well. There are other cars running in similar situations."
The controversy erupted hours before last weekend's Monaco Grand Prix, with Australian Mark Webber starting on pole position for Red Bull. He went on to win for the first time this season.
Rivals argued the Red Bulls had an illegal "fully enclosed hole" on the surface of the step plane of the floor.
Arguments had centred around fully enclosed holes, the difference between a "hole" and a "slot" and even what constitutes a hole.
The FIA note added: "It has been argued that, as it is not explicitly stated that fully enclosed holes cannot be located in a surface lying on the step plane rearward of a line 450mm forward of the rear face of the cockpit template, then they may be located in such areas.
"We disagree with this view and consider it implicit that fully enclosed holes may not be located there."
The Canadian Grand Prix takes place on 8-10 June.