Lewis Hamilton future: McLaren form is 'not key'

By Andrew Benson
Chief F1 writer
Last updated on .From the section Formula 1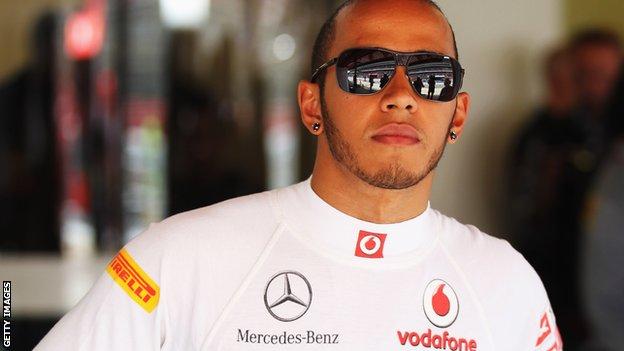 McLaren believe their stuttering form will not affect whether Lewis Hamilton decides to stay with them next year.
But McLaren managing director Jonathan Neale does not believe the last three races are key to Hamilton's future.
He added: "We've said we would like Lewis to continue racing for us. He has said he would like to continue racing for us."
Hamilton said he had not yet given any thought to his future.
"I underestimated how difficult the season was going to be and how busy I would be," he said, "and then I also realised how unimportant it [his future] is at the moment.
"The championship is more important than what I plan to do in my next contract. My future at the moment is not important. I might not even see next year, so what's important is making sure I capitalise and maximise this season."
The 2008 world champion has qualified fastest for three of the six races so far this season but has yet to win a grand prix. Heading into this weekend's Canadian Grand Prix, he is lying third in the championship, 13 points behind the leader Fernando Alonso of Ferrari.
Hamilton, who won the world title with McLaren in 2008, is weighing up his future and is also of interest to Mercedes, Ferrari and Red Bull.
But Neale said Hamilton would not look at "the last three races in terms of where he's going to be comfortable in the future".
"We have plenty of time; we don't need to make that decision until much later in the year," he said.
"You have to look at the performance of the team in the long-term relative to other teams. Against that we stand fairly well placed."
This season has been the first since 2008 that McLaren have started with a fully competitive car, but a series of operational errors have affected their results.
Pit-stop problems affected Hamilton and team-mate Jenson Button in China and Bahrain, and Hamilton was then demoted from pole to the back of the grid at the Spanish Grand Prix because the team had to stop him on the track as there was insufficient fuel in the car for him to get back to the pits and provide a sample.
Monaco was arguably their least competitive race of the season - Hamilton qualified fourth and finished fifth.
Neale said: "I am not going to walk away from the fact that we have to work hard and continue to eliminate those mistakes as well as finding upgrades in performance.
"Six races, six different winners, nobody's consistent at the moment - we sit second in the constructors' championship."
Neale said he was confident McLaren would be competing for victory in Montreal this weekend.
"Lewis has certainly demonstrated on several occasions this year just how potent he is this year and how determined he is to win - on pole by in excess of half a second in Spain demonstrates some of the performance in the car," he said.
"We got there [to Canada] with the intent to put both our drivers in a position where they can fight for a win and we're very hopeful of that.
"The car definitely has the pace and the upgrades are coming through thick and fast. A tenth or two and you can move a lot of places in qualifying."